Strategic Plan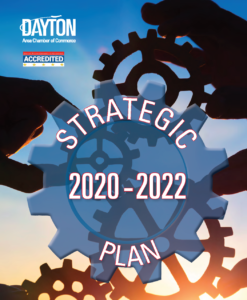 We are pleased to present the next 3-year strategic plan for our chamber of commerce.  As always, we do not take the work of planning for our future success lightly.  We encourage businesses to think, plan, execute and measure the work they do, and we hold ourselves to the same standards.
 This new plan is the culmination of work done by a strong, active committee of 25 volunteers and staff, facilitated once again by Chamber volunteer leader Tim Hull.  We began our work in the Spring of 2019 by surveying our members and community stakeholders.  We then compiled the data and engaged in many hours of thought and discussion.  As a result, we were able to identify three key areas of focus that are important to the region and align with our Chamber's resources and sphere of influence.
Our three areas of focus for 2020-2022 are Talent Alignment, Business Advocacy and Business Success.  Underpinning these strategic priorities are the core competencies of Connectivity and Organizational Excellence.  These priorities are the roadmap for the next three years and we encourage you to read more about them in the plan.  We will only be successful with your help, as our valued members, our partners, and our collaborators.
Now the real work begins.  We will translate this document into yearly business plans that we can implement, measure and for which we will be held accountable.  That is what any good organization does; and we "walk the walk".  No excuses, just continued work for the success of our members and our 9-county Miami Valley region.