CareWorks Medical Management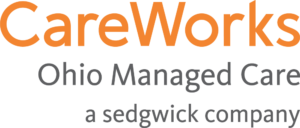 CareWorks' focus is to help injured workers throughout Ohio recover from workplace injuries and return to work as quickly and safely as possible.  Effective medical management helps employers develop strategic return-to-work programs to help reduce lost time, promote healthy and timely recoveries and help control workers' compensation costs.
CareWorks offers innovative claims and medical management services for workers' compensation, helping its more than 93,000 employer customers control costs and enhance employee productivity. Its core services include:
Customer reporting
Education & training
First report of injury
Initial treating providers
Injury report packets
Online injury reporting center
Internet provider search
Medical bill payment
Medical case management for workers? compensation
Return to work services
URAC-accredited services
CareWorks is an Ohio BWC-certified Managed Care Organization (MCO) through Ohio's Health Partnership Program (HPP). It medically manages nearly 30 percent of all new claims filed in Ohio, and its employer customers represent more than $660 million in workers' compensation premiums.