Speedway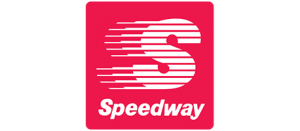 Speedway discount cards make great employee benefits or an excellent way to save at the pump for your business's fleet. Chamber members and their employees can use the cards to save 5 cents per gallon on gas at any Speedway gas station, except in WV and WI. You may also use the card to purchase merchandise, although no discount will apply.
How to use your Speedway card
Hand your Benefits Card and cash to the Speedway employee and tell them how much money to load (cards are not preloaded with funds).
Then pay at the pump – put your loaded card into the credit card slot and wait to see the prices roll back to reflect your savings. Then lift the handle.
Pump your gas. Any remaining balance will be printed on the receipt and stored on your card for next time. The pump will stop when you have used up the money on your card.
Receiving your cards
IMPORTANT: In order to ensure we have enough information to properly fill your Speedway card request, you must first complete the request form below. Speedway cards are only available to Dayton Area Chamber of Commerce members, and at maximum, each member may only request as many cards as the number of employees they have on file with the chamber. This is to ensure fairness to all requesting chamber members. Orders will be fulfilled within 3-5 business days of submission.  Orders of 75 or less may be delivered via USPS upon request. Large orders will be delivered via staff or can be picked up at the chamber's office.
For those who prefer to pick up their cards, the chamber's office is open Monday – Friday from 8:00 AM – 5:00 PM, located at 8 N. Main St. Suite 100. Metered parking is available out front.
Not a member, but want to join? Fill out an application!