Tips for reactivating water in idle buildings
After several weeks under the stay-at-home order, buildings that had been idle or underutilized for a time will be reopening. According to the Dayton Water Department, it's important to remember to flush the stagnant water from all devices, faucets, and filters connected to the water system that were dormant during the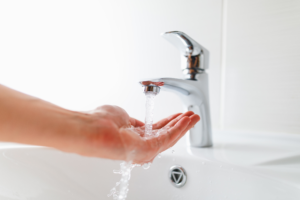 shutdown. For some helpful tips and flushing instructions, visit the American Water Works Association's Coronavirus page.
There are a few steps to flushing the entire water system. It's important to thoroughly flush, clean, and disinfect all terminal fixtures such as sink aerators, hoses, shower heads, and fountains. Next, any equipment that stores water will need to be drained such as tanks, water heaters, water softeners, washing machines, etc. Flushing the cold and hot water pipes is a multi-step process outlined by the Ohio EPA. To make sure all of the stagnant water has been flushed from the system, the fixtures will have to be open for a minimum of 10 minutes. Also, please note that cold water pipes should be thoroughly flushed before hot water pipes.
As we start the process of re-entering buildings, careful precautions like flushing the stagnant water from the pipes will go a long way toward making your reopening safe and successful.