Business Plan
This year, the Dayton Area Chamber of Commerce created a Business Plan, outlining goals and establishing outcomes for these five pillars of success: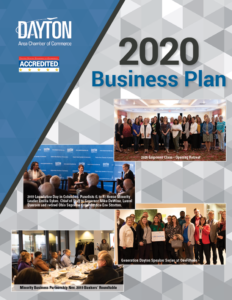 Organizational Value

Align operations with members' needs

Workforce Alignment

Provide resources to support employers' human capital needs.

Business Advocacy

Champion a positive business environment.

Business Success

Connect, grow and strengthen business.

Regional Prosperity

Enhance community and economic development.
Download a PDF copy of the 2020 Business Plan.
Public Disclosure Form 990
The IRS requires that nonprofit organizations must make their three most recent annual returns publicly available. With the exception of most faith-based organizations, tax-exempt nonprofits with incomes of more than $25,000 must file this return annually with the IRS. Click on the titles below to download the PDF's.
2016 Dayton Area Chamber of Commerce
2015 Dayton Area Chamber of Commerce
2014 Dayton Area Chamber of Commerce
2018 EPI Foundation
2017 EPI Foundation
2016 EPI Foundation
2015 EPI Foundation