History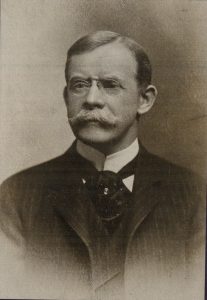 The Dayton Area Chamber of Commerce was founded in 1907 by John H. Patterson, the man behind one of Dayton's best known businesses, the National Cash Register Company. Patterson saw the need for a chamber of commerce to give area businesses a central, unified voice. He brought together the business leaders of his time and set forth a course that would soon create real change for the Dayton region.
DACC makes early waves in Dayton
Once formed, the Dayton Area Chamber of Commerce quickly got to work, providing resources to small businesses and serving as a champion for the region. The chamber advocated for five new dams, completed in 1922 as a result of the 1913 flood. The chamber's Air Service Committee succeeded in convincing Congress that Dayton would be a great location for the government's aeronautical research and development center. Working with the Retail Merchants and Dayton Advertising Club, the chamber also began efforts to create our community's Better Business Bureau. Another visible chamber project was the construction of the Dayton Art Institute, the completion of I-675 and the formation of the Dayton Aviation Heritage National Park.
As our country prepared for war after the attack on Pearl Harbor in 1941 and industries converted to manufacturing weapons, the Dayton Area Chamber served as matchmaker to link companies, contractors and suppliers.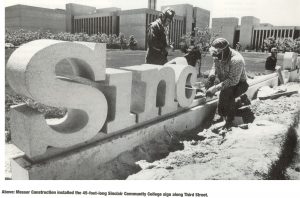 The Dayton Area Chamber has also played a large part in the region's strong higher education footprint. In 1964, the chamber led the charge in the Dayton area to pass a statewide bond issue and raise the necessary money to form what was later named Wright State University. The chamber also worked to make Sinclair Community College a reality.
In 1975, the chamber formed an important business unit, the Dayton Development Council, which later morphed into a separate entity, known today as the Dayton Development Coalition.
Creating Dayton's future leaders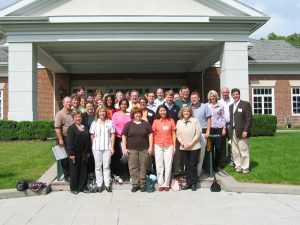 Many of the chamber's early years were spent looking for ways to improve the Dayton region to benefit member businesses, but as time went on, the chamber began to also create avenues for member businesses to give back to the community.
In 1976, the Dayton Area Chamber formed Leadership Dayton, a program aimed at turning great business leaders into great community leaders. Still in existence today, the 10-month program takes a class of approximately 50 people through in-depth topical day retreats, covering things like Dayton's history, how healthcare, diversity and education are working in the region and the impact of Wright-Patterson Air Force Base.
"Leadership Dayton has become one of our premier programs," said Chris Kershner, president & CEO of the Dayton Area Chamber of Commerce. "Pouring through a list of Leadership Dayton graduates is like looking at a "Who's Who" of Dayton. These young leaders graduate from our program and go on to do fantastic things. We're very proud of that."
Along the way, class members are asked to create a class project that will benefit the community. They're also given the opportunity to serve on the board of a chosen local non-profit. Since its formation, more than 2,000 people have graduated from the program and many of them are now community servant leaders in the Dayton region.
Another program of the Dayton Area Chamber of Commerce, Generation Dayton, was formed in 2006 to help the region retain young professionals. The program encourages professional development, networking and community service.
Each year, more than one hundred young professionals volunteer their time for area non-profits during the annual Generation Dayton Day. Members say their involvement with Generation Dayton not only opened doors within their careers, but also helped them develop a sense of place and a greater love for the Dayton region.
The Dayton Area Chamber of Commerce strives every day to make its vision a reality. The staff understands that bridging gaps between our businesses, non-profits and government entities will result in a better place to live, work and play.
Awards, honors, achievements:
1998: Better Business Bureau Integrity Eclipse Award, Small/Medium Business Category
1998: Ernst & Young LLP, Entrepreneur of the Year, Supporter of Entrepreneurship Award
1998: National Association for Membership Development, Award for Excellence – Nation's Best Chamber
2001: National Association for Membership Development, Award for Excellence – Finalist
2005: U.S. Chamber of Commerce, 5 Star Accreditation
2010: U.S. Chamber of Commerce, 5 Star Accreditation; Dayton Regional Transit Authority (RTA), Making a Difference honor
2013: Dayton Home Builders Association, Community Partner Award
2014: United Way of Greater Dayton, Cornerstone Award
2015: U.S. Chamber of Commerce, 5 Star Accreditation
2016: The chamber's 10-year advocacy of fixing I-75 through downtown Dayton was finally complete
2017: Association of Chamber of Commerce Executives, Chamber of the Year Finalist; Better Business Bureau, Community Honor
2018: The chamber launched Empower, its women's leadership development program
2019: Moved the chamber office closer to downtown core. Launched City2City, a business exchange program for member businesses
2020: Board announced Chris Kershner to replace retiring President & CEO, Phil Parker. Global pandemic forced a shift in programming to a mostly virtual environment.