Economic Data
Pulling together resources from several community partners, the Dayton Area Chamber of Commerce gathers information on the region's economy to help business leaders make informed decisions regarding their companies. Here you'll find several resources which can give you a detailed picture of the region's economy at any given time.
Economic Outlook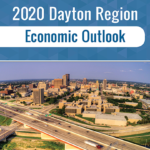 We know business owners rely on trustworthy financial forecasts from local economists, investors and researchers to chart their path in the year ahead. That's why every year the chamber convenes the Research Advisory Council (RAC) to compile our Economic Outlook for the upcoming year. Their unique insights along with government data and research from industry organizations will help business, civic and non-profit leaders plan and strategize for 2020.
Download the 2020 Economic Outlook.
Economic Indicators

Our economic indicators provide the most recent look at several data points that can give us an idea of how the region's economy is faring. The indicators are published on a monthly basis and include information about unemployment, cost of living, sales tax collections among others.