Economic Data
Pulling together resources from several community partners, the Dayton Area Chamber of Commerce gathers information on the region's economy to help business leaders make informed decisions regarding their companies. Here you'll find several resources which can give you a detailed picture of the region's economy at any given time.
Economic Indicators

Our economic indicators provide the most recent look at several data points that can give us an idea of how the region's economy is faring. The indicators are published on a monthly basis through a partnership with the Applied Policy Research Institute at Wright State University.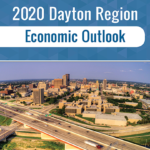 Download the 2020 Economic Outlook.