Chamber names new Vice President of Business Inclusion
DAYTON, Ohio (February 1, 2022) – The Dayton Area Chamber of Commerce has announced the promotion of Belinda Matthews-Stenson to the role of Vice President of Business Inclusion. Matthews-Stenson has been with the chamber for nearly 10 years and previously served as Director of Minority Business Partnership (MBP).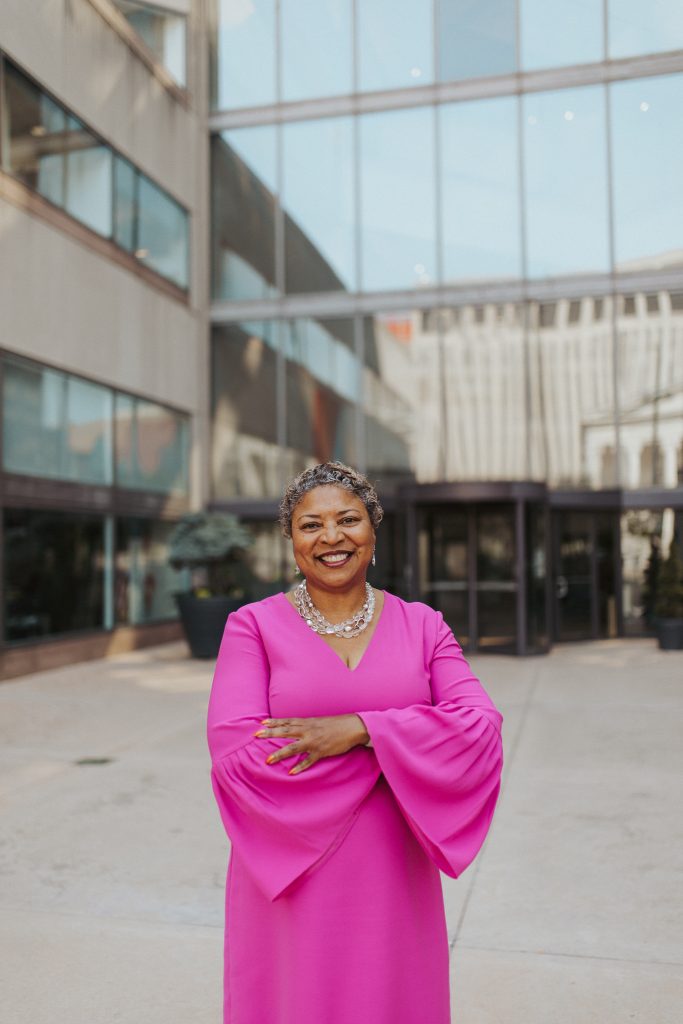 "Belinda is the leader of business inclusion in the Dayton region. As the Minority Business Partnership has evolved, it has become so much more than supplier diversity. There is a movement in the business community and Belinda is leading the charge," said Chris Kershner, president & CEO, Dayton Area Chamber of Commerce. "Belinda is personally moving the needle on business inclusion services for the Dayton region."
In her new role, Matthews-Stenson will lead the chamber's efforts in the regional advocacy for minority business development and programming for inclusive growth of diverse, minority and economically disadvantaged businesses. Additionally, she will be the advocate for the embedding of diversity and inclusion strategies in the chamber and the region's economic development community.
"As a region, we've made strides over the last decade but so much more is needed to provide minority- and women-owned businesses equitable access to the region's economic networks," said Matthews-Stenson. "The last two years have been extremely challenging for our businesses and I look forward to developing strategic partnerships and leading innovative programs that accelerate their business growth and success. I'm excited about the chamber and the Dayton Region's heightened commitment to 'leave no business behind.'"
Since starting at the Dayton Area Chamber of Commerce in 2012, Matthews-Stenson has used her extensive experience in business management and finance, as well as her passion for equity and inclusion to work and build a more vibrant and diverse business community. She is one of Dayton's most recognizable business contributors and continues to use her unique skillset to create a more equitable place to live and do business.
Matthews-Stenson has led several business inclusion efforts and strategic partnerships. During the pandemic, she was instrumental in connecting minority- and women-owned firms to grants and funding to support their businesses. She drives strategic collaborations with various organizations to provide access for those underrepresented companies. Most recently, MBP has connected businesses to capital, coaching, and contracts to scale their businesses. Initiatives such as Bankers Roundtable, Project Enginuity, Ascend, REACH! and Business Opportunity Breakfasts confront common barriers that hinder the growth of minority- and women-owned businesses.
Matthews-Stenson has an undergraduate degree in Economics/Accounting and a Masters of Business Administration degree in Finance/Accounting. She currently serves on several community and corporate boards: Greater Dayton RTA, Omega Community Development Corporation, onMain Advisory Committee, Dayton Arcade New Community Authority and Phoenix Next.Board.
Matthews-Stenson is a graduate of Black Leadership Dayton, Leadership Dayton, and the University of Dayton Emerging Executive Leadership Program.
About Dayton Area Chamber of Commerce
The Dayton Area Chamber of Commerce brings together nearly 2,200 businesses and organizations in a 9 county area surrounding Dayton, Ohio. The Chamber strives to improve the region's business climate and overall standard of living through public policy advocacy, economic development initiatives and providing networking and training opportunities for its members. Nationally awarded with "5-Star Accreditation" from the United States Chamber of Commerce, the Dayton Area Chamber is widely recognized for its innovative programs and outstanding contribution to positive change in the region. Information about the Dayton Area Chamber of Commerce is available at www.daytonchamber.org or 937-226-1444.
-END-