Chamber plans virtual celebration of business resiliency
FOR IMMEDIATE RELEASE
September 22, 2020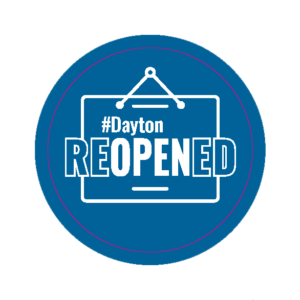 DAYTON, Ohio – At a time when the Dayton region's business community needs support more than ever, the Dayton Area Chamber of Commerce is planning a virtual celebration of their innovation and resiliency, called #DaytonReopened.
On October 16, 2020, the chamber will shine a light on stories of survival, told by our own business members, as they weathered a global pandemic. This is a chance for small business owners to speak out through video, live interviews, photos, and online polls. We'll celebrate their hardships and strengths, and invite the public to show their support.
This year, Dayton Area Chamber of Commerce has worked tirelessly to connect chamber member businesses with emergency funding, business support, and other resources to help them continue moving forward during this crisis. #DaytonReopened is designed to provide another missing link: A celebration for what they've already accomplished, and motivation to continue their momentum.
#DaytonReopened will kick-off with an opening virtual event exclusively for chamber members, featuring Governor Mike DeWine, then, we'll move to the chamber's Facebook page, (www.facebook.com/DaytonChamber), where content will be posted throughout the day. Interaction is encouraged by using the hashtag #DaytonReopened.
"The relationship between small businesses and their customers is unique. While business owners and managers spend countless hours focused on customer needs, it's time for us to turn the tables and champion those small business leaders and entrepreneurs who add to the special character of our region," said Chris Kershner, president & CEO of the Dayton Area Chamber of Commerce. "They need to know we're behind them. And while this crisis isn't over, the chamber wants them to know our community will be here to help them through."
The COVID-19 pandemic has forced businesses across the country to explore a new approach in order to survive. With the help of chamber members Indigo Life Media and Boom Crate Studios, the chamber will tell several stories of business survival and inspiration throughout the day through video. Chamber member businesses will be asked to display a Dayton Reopened window cling, and to post photos and videos for sharing.
Members of the public will be asked to comment, share, and post inspirational messages for chamber member businesses on the chamber's Facebook page as a way to show support.
Visit DaytonChamber.org/dayton-reopened for more information and to register for the kick-off event featuring Governor Mike DeWine. Spots for the virtual event are limited.
Special thanks to our Presenting Sponsor: Kettering Health Network
About Dayton Area Chamber of Commerce
The Dayton Area Chamber of Commerce brings together more than 2,200 businesses and organizations in a 9 county area surrounding Dayton, Ohio. The Chamber strives to improve the region's business climate and overall standard of living through public policy advocacy, economic development initiatives and providing networking and training opportunities for its members. Nationally awarded with "5-Star Accreditation" from the United States Chamber of Commerce, the Dayton Chamber is widely recognized for its innovative programs and outstanding contribution to positive change in the region. Information about the Dayton Area Chamber of Commerce is available at www.daytonchamber.org or 937-226-1444.
-END-