Chamber's logistics group advocates for tax change; legislation now under consideration
UPDATE: June 26, 2018 — Dayton Area Chamber Executive Vice President Chris Kershner presented testimony before the Ohio House Ways & Means Committee advocating for this bill. Read his testimony here.
ORIGINAL POST: June 13, 2018 — In late 2017, the businesses that make up the Dayton Area Chamber of Commerce's Dayton Area Logistics Association (DALA) saw a problem that was costing them a lot of money. The state of Ohio was charging hefty sales tax on items like forklifts, conveyo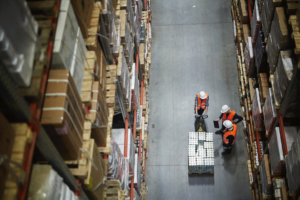 rs and other equipment that their businesses need to move goods from one place to the next.
For DALA businesses, many of which do work in supply chain management, trucking, warehousing and more, these items are vital to their operation. However, sales tax on this large items is expensive.
Across the state line, businesses in Indiana are exempt from such tax, and Ohio exempts manufacturers from paying the tax, but not logistics companies.
Seeing an opportunity for change that could help them save tax dollars they could reinvest in their businesses, DALA members and chamber staff lobbied for a bill that would exempt these business items from sales tax.
Their work paid off. In May 2018, Representative Niraj Antani introduced House Bill 641, which would exempt from sales tax the equipment logistics companies use to move goods. The bill is now under consideration in Columbus and advocacy work is underway to encourage the passage of this crucial piece of potential legislation.
Read the legislative summary of HB 641.