Dayton Area Chamber invited to White House for national workforce summit
Washington, DC (December 13, 2019) – Solidifying its reputation as a leader on workforce issues, the Dayton Area Chamber of Commerce was honored to attend a national summit on the topic at the White House this week. The first-of-its kind White House summit focused on paid family leave and child care affordability. Dayton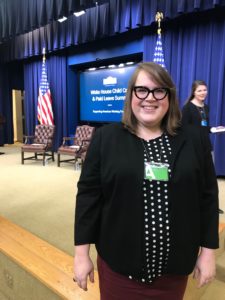 Area Chamber of Commerce Public Policy & Economic Development Director Stephanie Keinath attended on behalf of the chamber.
"We were honored to be among the few leaders on this topic invited to provide a voice for our business leaders," said Chris Kershner, Executive Vice President, Dayton Area Chamber of Commerce. "It's important we ensure employees have access to child care, and that the voice of business is heard in the White House. Our chamber strives to provide that voice on behalf of our members."
Workforce issues have long been a top priority for chamber members, and the Dayton Area Chamber has taken a lead role in advocating for the needs of the business community, both in workforce attraction and retention.
The summit, hosted by the Office of Economic Initiatives, was an opportunity for national leaders to release their principles on
childcare reform based on the lessons learned from childcare roundtables that were held across the country earlier this year.
Keinath was among business, education and community leaders invited to discuss the current landscape of childcare and the critical challenges impacting parents, employers, and communities across the country.
Both Ivanka Trump and President Trump were part of this week's summit conversations.
Contact: Chris Kershner, Executive Vice President, Dayton Area Chamber, cek@dacc.org or 937-776-3161
About Dayton Area Chamber of Commerce
The Dayton Area Chamber of Commerce brings together more than 2,200 businesses and organizations in a 9 county area surrounding Dayton, Ohio. The Chamber strives to improve the region's business climate and overall standard of living through public policy advocacy, economic development initiatives and providing networking and training opportunities for its members. Nationally awarded with "5-Star Accreditation" from the United States Chamber of Commerce, the Dayton Chamber is widely recognized for its innovative programs and outstanding contribution to positive change in the region. Information about the Dayton Area Chamber of Commerce is available at www.daytonchamber.org or 937-226-1444.
 -END-