GEN D FEATURED PROFESSIONAL: AMANDA DELOTELLE, MIAMI VALLEY MEALS
Name: Amanda DeLotelle
Title: Executive Director
Organization:  Miami Valley Meals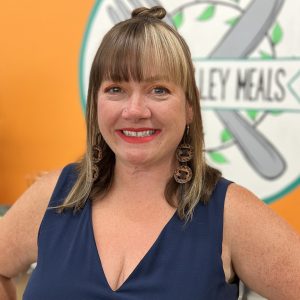 Community Involvement (groups, clubs, boards, volunteer activities, etc.):
Member of The Food Equity Coalition Healthy Families Branch, Volunteering with I Love West Dayton, Gem City Market Member
Hobbies and interests:
From a young age, I've loved learning about other cultures and traditions from around the world. My family and I love to check out local festivals, specifically around food and music. Lately, when the world feels heavy and I need to relax, my interests have turned to Discover Classical and Antique Roadshow.
Favorite Area Eatery:
There are so many wonderful, independent places to choose from in our city!
Most recently, my family and I tried Gulzar's and absolutely loved it. The food was delicious, the service top-notch and the decor was vibrant and thoughtful – right down to the silverware and cute umbrellas under the patio awning.
Also, the DDP's Lunch-O-Matic feature is super fun if you can't decide where to go for lunch.
Favorite Weekend Activity in Dayton:
I love our cultural festivals, scootin' around the city on a Spin scooter, the pedal
wagon (shout out to Capt'n Giggles), free music at the Levitt Pavilion and walking around the Oregon District on a sunny afternoon.
What do you love about Dayton? Dayton is a special place. We are a welcoming, creative, hard-working, scrappy, diverse community. Ingenuity and resiliency are at our core. Collins Dictionary states "If you describe something or someone as a gem, you
mean that they are especially pleasing, good, or helpful." I am fortunate to live and work amongst so many gems who have repeatedly
stepped up to support one another in both our brightest and darkest times.
How has Generation Dayton aided your professional, personal and/or social development?
Generation Dayton gave me a fun, no pressure environment to connect and learn
more about our city and the amazing people who make things happen.!
Tell us a little more about your profession and company…
Miami Valley Meals chefs transform donated food into hearty meals for distribution through a network of nonprofit organizations to those in need. We started as volunteers during the pandemic and with tremendous community support, have grown our operation to serve nearly 400,000 meals through 88 partners across 34 zip codes since March of 2020.
Favorite quote or inspirational saying:
"We all learn it in kindergarten and it's simple but always relevant: Treat others the way you want to be treated."