GEND FEATURED PROFESSIONAL: COLLIN RUST, UNITED STATES AIR FORCE
Generation Dayton Featured Professional Profile
Name: Collin Rust
Title: Program Manager
Organization: United States Air Force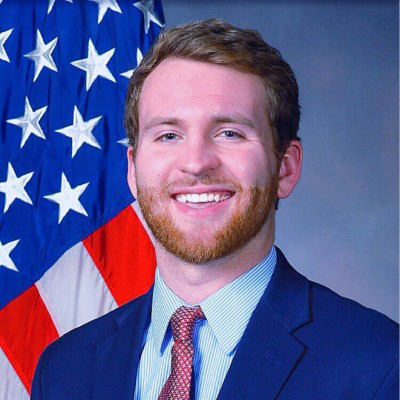 Community Involvement (groups, clubs, boards, volunteer activities, etc.):
After graduating from the University of Dayton with my MBA in December 2020, I have sought to get more involved in the local community. I have joined Generation Dayton, now serving as a Member at Large on the Steering Committee. I was selected by the Beavercreek City Council to serve as a member of the Youth Development Committee, to help youth in Beavercreek develop leadership skills through service to the community. I have also gotten involved as a meal server at the local YWCA and have been involved in a number of other volunteer organizations in the Greater Dayton Area.
Hobbies and Interests: Aside from spending quality time with my fiancé Courtney and our puppy, Chewie, I greatly enjoy spending time out in nature. I love exploring our local area through the multitude of parks and wildlife areas we are surrounded by, whether that be through hiking, running, or cycling. Within the last year, I have been fortunate to be able to complete two marathons, seven half marathons and two triathlons.
Favorite Area Eatery: I always enjoy, what I believe is our area's hidden gem, Taqueria Mixteca on East 3rd Street!
Favorite Weekend Activity in Dayton: I love getting a group together to head over to Wiley's Comedy Club for a show and then explore the Oregon District's many local bars, restaurants and shops.
What do you love about Dayton? I have lived in the Greater Dayton Area my entire life and am always amazed to find just how much we have to offer here. Between our incredible parks, restaurants, businesses and local arts scene, I believe Dayton is in store for much more growth in the next decade. I am proud of the resilience of the Dayton Area, whether it be the Oregon District shooting or the Memorial Day tornadoes, the community has always come together to support our fellow neighbors.
How has Generation Dayton aided your professional, personal and/or social development? Generation Dayton has not only provided me a tremendous opportunity to meet other young professionals in the area, but has provided me an excellent opportunity to learn more about local organizations doing incredible work here in our community.
Tell us a little more about your profession and company… Working as a civilian Program Manager for the United States Air Force has been an enormously rewarding experience for me. There aren't many jobs where you get the opportunity to feel so deeply connected to the mission of your organization. WPAFB truly has a great deal of people doing some incredible things that impact the security of folks all across the globe. I have always felt immensely connected to that mission and will continue to do my part to contribute to the preservation of peace in our increasingly complex world.
Favorite quote or inspirational saying: 
"A society grows great when old men plant trees in whose shade they shall never sit." — Greek Proverb