GenD Featured Professional: Sarah Seagraves, 67b Bookkeeping
Each month, we feature a young professional from Generation Dayton. These up-and-comers are already making a mark on the Gem City, so we're sure this isn't the last you'll be seeing of them.
Name: Sarah Seagraves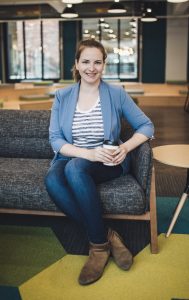 Title: Owner & Bookkeeper
Organization: 67b Bookkeeping
Community Involvement (groups, clubs, boards, volunteer activities, etc.):
I am involved in the Generation Dayton Steering Committee as a Member at Large. I am also a member of St. Peter's Parish in Huber Heights. I regularly volunteer my time with Launch Dayton's Early Risers Academy working with entrepreneurs and new start-ups.
Hobbies and interests:
Anything outside or involving food: from growing fruits and veggies in our garden to cooking with my toddler. I also really enjoy exploring all the parks and trails around Dayton with my family and friends.
Favorite Area Eatery:
A list because I really do love food! Old Scratch Pizza, Table 33, Back Home Tavern, & Condado Taco are at the top.
Favorite Weekend Activity in Dayton:
Hunting around farmers markets & street fairs. 2nd St Market, 3rd Sunday on Front Street, and Saturday Sidewalk Sales are always a good idea. I also love exploring all the different restaurants and patios Dayton has to offer.
What do you love about Dayton?
We are a big city with a small town feel. Dayton has an always expanding list of opportunities to explore new places and meet new people and experience new things, but it seems no matter where you go, you'll run into someone you know. It's a great thing to have the best of both worlds.
How has Generation Dayton aided your professional, personal and/or social development? 
I joined GenD just after launching my business. Being an entrepreneur can be a bit isolating, there's no built in camaraderie of co-workers. So having Generation Dayton has provided an opportunity to meet and become friends with others who share similar goals.
Tell us a little more about your profession and company…
67b Bookkeeping focuses on helping women-owned businesses better understand their finances how to use that data to build their success. Women have traditionally been left out of financial conversations, which is crazy because over 60% of new businesses are started by women! I want my legacy to be building a foundation of small businesses right here in Dayton that continue to grow and prosper.
Favorite quote or inspirational saying:
"It is useful because it is beautiful" – Antoine de Saint-Exupéry The Little Prince
Learn more about Generation Dayton