Do you know someone who knows someone?
You've heard the saying, 'it's all about who you know'. Turns out, it's absolutely true. While skill sets are still paramount, researchers have found that who you know matters more than we once thought. The website Glassdoor.com took a look at more than 440,000 interview requests that came through its site to figure out if it matters how you enter the pile of resumes sitting on the hiring manager's desk. They
found that the most effective way to land an interview is through an employee referral that stems from an in-person connection with that employee.
After the interview, your chances of being hired are boosted by almost 7% if you entered the list of prospects through an inside referral. Glassdoor says it may not sound like much, but it is truly a statistically significant jump.
Face time is priceless
Now that we know how helpful an employee referral can be, the question for job seekers is, how do you land one of those referrals? Getting face time with employees of your dream employer is not easy, and shaking hands with a high-level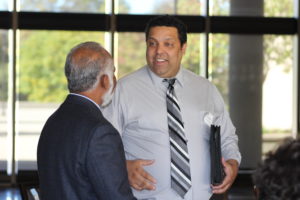 executive is nearly impossible. Or is it?
What if we told you there's a place where these key decision makers meet, many times on a regular basis, that's open to everyone? That place is a chamber of commerce event. In the Dayton region, the Dayton Area Chamber of Commerce, the largest coalition of businesses in the area, attracts business leaders from all industries on a regular basis and it's easy to take advantage.
Make your name – and ambitions – known
When a job opening comes up, you want to be top of mind for hiring managers and HR professionals. In order to be on the list of prospects they call when they're looking to fill a position, make sure they know you, and know what you're looking for.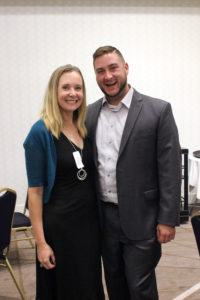 The first step is identifying where to find the people who can help you reach your goals. To do that, learn how to read the chamber event calendar. If you're looking for high-level executives, try stopping by one of our Breakfast Briefing events. You'll find yourself sitting down to breakfast next to a CEO, or a sales executive, or maybe even an HR manager. Are you trying to work your way into or up the ladder in the transportation or logistics industry? Stop by a Dayton Area Logistics Association event. You never know who you'll run into. The list goes on. You can usually guess what demographic of attendees you'll see based on the subject matter covered by each event.
Get to work and stand out
The power that lies in a chamber of commerce's event calendar is often times overlooked, but that provides a prime opportunity for you. According to Career Horizons, at least 70% of job openings are not published. That means knowing someone who knows someone might give you an inside track on job opportunities, and you might land that ever-powerful referral from a person in the know.
Now get to work – opportunities await!