Leadership Dayton class of 2013 battles 'summer slide'
DAYTON, Ohio (June 2013) – What do you get when you combine 350 kids, 42 Leadership Dayton class members, over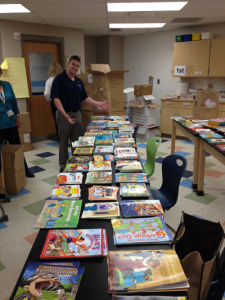 5,000 books and the inspiration to improve literacy? An amazing Leadership Dayton class project!
The 2013 Leadership Dayton class project addressed the "summer slide." The summer slide happens when young readers lose some of the skill, knowledge, and reading motivation gained during the school year typically due to lack of access to books during the summer months. If this occurs summer after summer it can result in children being almost a year behind in reading by third grade. After learning about the summer slide and how it relates to overall academic performance and eventually job and economic opportunities, the class decided this was an area to focus for their signature project.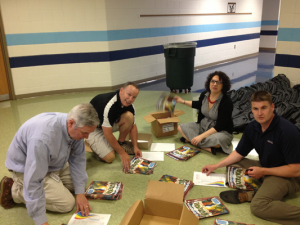 The class adopted Louise Troy PK-3 School in Dayton. This was a new model in the Dayton Public Schools focusing on this specific age group. This was the perfect school to work with on this project.
Throughout the class year, the class donated and found donations of books for preschool through third graders. The class also received a generous donation of backpacks from Crayons to Classrooms. By May 2013, well over 5,000 books were in storage for the project.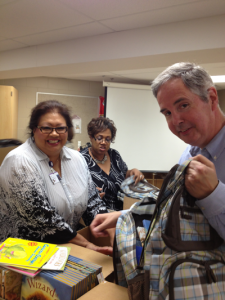 Finally, the big day arrived on May 23 when the class went to the school and assembled 350 backpacks with age appropriate books. Then class members went into the classrooms, reading books, getting the kids excited about literacy and giving them the challenge to read over the summer.  Every child was given at least 10 books for their summer reading. From Dr. Seuss to Fly Guy, Curious George to Flat Stanley, the kids were excited to meet new characters that they could read about all summer long.
While addressing illiteracy is something that will take the entire community, the Leadership Dayton class of 2013 hopes the children at Louise Troy PK-3 have a wonderful summer and keep their reading skills up high!