City2City
Due to the health concerns surrounding COVID-19, the Dayton Area Chamber of Commerce has decided to cancel the 2020 City2City trip. We will resume in summer of 2021, with the dates and locations to be announced in early 2021. Want to be the first to hear about City2City? Contact Jessica Wagner at jwagner@dacc.org or 937-226-8258.
Explore and learn with us through City2City, an annual metro exchange trip that invites our business leaders to explore best practices and lessons learned from cities that experience challenges and opportunities similar to the Dayton region. Through our sister chambers of commerce, we're able to gain access to influential business and civic leaders in metro areas across the country. Explore with us, then help us bring the best ideas to life in Dayton!
Here's what you missed at our 2019 Inaugural Trip: Minneapolis/St. Paul
Why Minneapolis/St. Paul? As the Dayton & Cincinnati metropolitan areas continue to bleed into one another, our region is exploring ways for collaboration that will allow both cities to exploit a 'MegaRegion' status. For our inaugural City2City trip, we visited Minneapolis / St. Paul to see how the southeastern Minnesota region embraced its "Twin Cities" status. We took away ideas for regional cooperation and advancing inclusive growth, and we asked our Minnesota counterparts what that means for corporate employers. We also explored the cities' approach to attracting and retaining a global workforce through a high quality of life.
Wednesday, September 25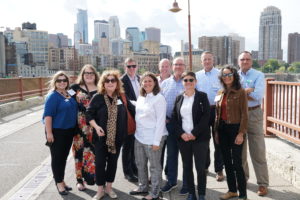 We started our trip with a tour of Downtown Minneapolis. This photo was taken on the famous Stone Arch Bridge which spans the Mississippi River and has a great view of the Minneapolis Skyline. Did you know Minneapolis uses indoor sky walks all over the city? Winters can be brutal but these sky walks allow people to get from building to building without facing the elements.
After our tour we had a casual opening reception at Lakes & Legends Brewing Company. The president of the Saint Paul Area Chamber of Commerce stopped by to say hello. We enjoyed craft brews and conversation. We also tried "Jucy Lucy's" – a Minneapolis cheeseburger where the cheese is on the inside of the meat instead of top.
Thursday, September 26
We started our first full day of programming with a bang! The Corporate Scientist of 3M, Dr. Olester Benson, opened with a keynote address about 3M's innovative culture. You probably use some of 3M's most popular products every day: Scotch Tape, Post-it Notes and sand paper. The company also works in automotive, electronics, manufacturing and energy.
Our second session was a panel discussion about metro-area mergers and their impact on businesses, communities and the media. We invited the Saint Paul Area Chamber of Commerce, the Minneapolis Regional Chamber, Greater MSP, Taylor Corporation and the Star Tribune to discuss how the two cities maintain their unique identities but leverage the power of their Twin Cities status to attract and retain businesses. Panelists also touched on the importance of regional cooperation and collaboration.
Up next, a road trip to the Cedar Riverside Opportunity Center. This one-stop shop for for educational and workforce resources serves mostly immigrant and refugee clients, helping with everything from resume writing to interview skills. While at the Center, we heard from key partners from the city, county and library as well as small business owners. Amazon also hires many of its entry level and manager positions through this center. It's a great example of how collaboration can create something that taps into another workforce population.
We capped the day off with a Party like it's 1999! We took a private tour of Paisley Park, the home and recording studio of Prince. He often performed at Paisley Park with "pop up concerts." Unfortunately no pictures are allowed inside, but we saw one of his many recording studios, motorcycle and other memorabilia from the movie Purple Rain as well as some of his flashy outfits.
Friday, September 27
Our final day kicked off with a presentation from Mayo Clinic. Erin Sexton is Enterprise Director of Community Engagement and spoke about Mayo Clinic's role as an economic driver not only in Rochester (its headquarters) but the entire region. Mayo Clinic even has its own airport in Rochester where it can ship and receive samples from all over the world. The Clinic also leverages new technological innovations to drive medical advances. Erin was kind enough to stick around after her presentation to speak with some of our attendees personally.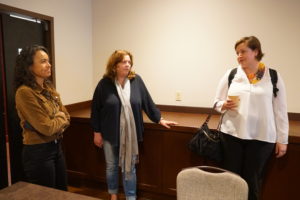 Our final session ended with a bang! Tawanna Black, Founder and CEO of the Center for Economic Inclusion shared her passion for fueling the path to economic prosperity. This cross-sector organization works to disrupt systems to catalyze shared prosperity. Their impact areas include economic development, human capital, transit and access.