Voice of Business: U.S. Manufacturers shift to make PPE
Submitted By: Infintech
During the pandemic, the U.S. has been scrambling to secure enough face masks, goggles, plastic gowns, and other personal protective equipment (PPE) to keep frontline workers safe. This gear creates barriers between individuals and prevents exposure to droplets that could carry the virus between people, making it essential for healthcare professionals who come in close contact with COVID-19 patients.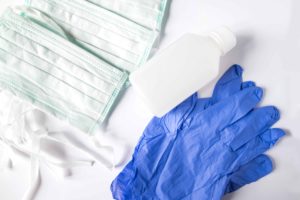 PPE shortages have been severe since the pandemic started with governments competing for items their healthcare workers need amid disrupted manufacturing and supply chains. Typically, China produces more than half the world's face mask supply, but the country largely ceased exporting these items when the pandemic hit.
Getting protective supplies to those who need them and ensuring PPE inventory quantities are sufficient to curb the spread of the virus are both critical to public health. All of this has led some U.S. manufacturing companies to step up and pivot their business in order to help the greater good.
Manufacturers Pivot Into PPE
Some U.S. companies have sought to fill the gap on domestic shortages by expanding into PPE manufacturing. These companies had to first identify which items were most aligned with their existing production lines and then reconfigure their processes to match these products. Manufacturers that already relied on U.S. sources for raw materials have been especially well-positioned to make such transitions because they can avoid major international supply chain and logistics disruptions and thus quickly shift their operations to create PPE.
Maine-based manufacturer, Flowfold, which creates sailcloth backpacks and similar products with items from domestic suppliers, is one small company that has converted its operations to create face shields for healthcare providers. It was able to use the same machinery it normally leverages for cutting heavy-duty sailcloth to instead cut plastic for face shields. But doing so required several major changes, like reconfiguring its factory with appropriately spaced and disinfected workstations as well as giving staff equipment to protect themselves from contracting or spreading the virus. Flowfold also had to get a new type of insurance to protect itself from liabilities associated with making PPE, according to Chief Operating Officer, James Morin. They also consulted healthcare workers to learn what went into creating face shields that fit well.
Individuals Utilize 3D Printers
Individual consumers with 3D printers have also wanted to pitch in and create equipment, using their home devices to print various items, including nasal swabs for testing kits and protective hard plastic masks. Some have been creating ventilator splitters, which enable a single ventilator to serve more patients, thus easing demand on highly sought-after machines.
Companies' efforts to pivot their operations and create additional products are vital to public health and reliable restoration of commercial activities.  Creating PPE will thus go a long way toward saving lives and reducing the timeline for economic recovery.