Vote Yes on the Brunch Bill
I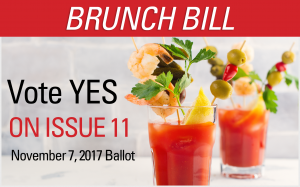 ssue 11, also known as the 'Brunch Bill', would allow some downtown Dayton restaurants to start selling liquor at 10 am on Sunday, the earliest time allowed by the State of Ohio law on Sunday. The change only applies to restaurants and bars located in Dayton 1-B which includes those in and around the Oregon District. The Dayton Area Chamber of Commerce and the 'Brunch Bill' Coalition believe this change will allow restaurants that already serve a Sunday brunch to boost business by allowing earlier sales of alcohol. It also presents an opportunity for other businesses who may consider Sunday liquor sales in the future. We hope residents in Dayton 1-B will approve this measure which will support and contribute to our downtown Dayton residents, businesses and vibrancy. Vote Yes on Issue 11 on Tuesday, November 11. Download your precinct map here.
How Issue 11 will appear on the ballot for residents in precinct 1-B:
Shall the sale of intoxicating liquor, of the same types as may be legally sold in this precinct on other days of the week, be permitted in this Dayton 1-B for consumption on the premises where sold between the hours of ten a.m. and midnight on Sunday?
Contact Jessica Wagner with questions 937.226.8258.