Voice of Business: Employee happiness is an investment
We've all been expected to do more with less this year, and it's not uncommon for business leaders to accept the idea that fair pay for that work is enough to create employee buy-in, and in turn, motivation.
The truth, however, is that it isn't enough.
Happiness fosters productivity
A study conducted by the University of Warwick found that happiness makes people more productive in the workplace. In fact, happy employees were about 12% more productive.
Here's a snippet from the press release announcing the report:
This is the first causal evidence using randomized trials and piece-rate working. The study, to be published in the Journal of Labor Economics, included four different experiments with more than 700 participants.

During the experiments a number of the participants were either shown a comedy movie clip or treated to free chocolate, drinks and fruit. Others were questioned about recent family tragedies, such as bereavements, to assess whether lower levels of happiness were later associated with lower levels of productivity.

Professor Oswald said: "Companies like Google have invested more in employee support and employee satisfaction has risen as a result. For Google, it rose by 37%, they know what they are talking about. Under scientifically controlled conditions, making workers happier really pays off."

Dr. Sgroi added: "The driving force seems to be that happier workers use the time they have more effectively, increasing the pace at which they can work without sacrificing quality."
This study puts meat on the bones of the idea that feeding the holistic needs of an employee is critical to employee engagement, longevity, and in turn, business success.
A recognized employee will stay
According to a report by the U.S. Bureau of Labor and Statistics, the majority of employees who chose to switch to a different career said they left because they either felt a lack of respect or a lack of autonomy.
There are many ways to go about making employees feel recognized and heard, including conducting "stay" interviews – similar to exit interviews, but focused on why employees choose to stay, and making sure your employees understand the vision for the organization and have input.
But during the holidays, there's no simpler way to show appreciation than with a small gift.
Choosing the right 'thank you'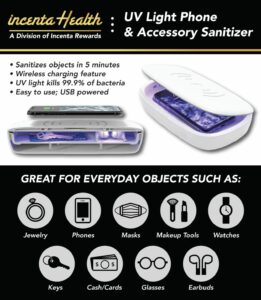 Because of COVID, most company holiday parties have been halted, so many businesses are looking for ways to gift something that will be apprecia ted across the board.
One Dayton Area Chamber of Commerce member knows this area inside and out – Incenta Rewards. Incenta has thousands of gift options to help you show appreciation for your employees, whether it's during the holidays, or all year round.
Below are a couple of ideas:
Incenta Health UV Phone and Accessory Sanitizer
Reg $79.95  Sale $59.95
Perfect Holiday gift for Employees or Clients and all-so timely!  Our UV Phone and Accessory Sanitizer is great for keeping your everyday objects sanitized with ease – the UV-C light produced kills up to 99.9% of bacteria on things such as phones, keys, etc.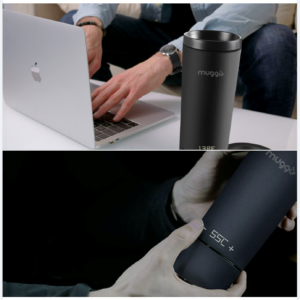 Muggo Temperature Control Mug with 3 hour Battery Life, Hot Beverage Warmer, Heated Travel Mug with Dual Charger  Reg $179.95  Sale $129.95 each
If you're a coffee or tea drinker, you know your beverage has three temperatures – scalding hot, lukewarm, and freezing cold. It's hardly ever just right. Perhaps you've wondered how to keep your favorite drinks hot without relying on a microwave.
New to Incenta's vast catalog of great products, we present the Muggo.
Muggo is an advanced portable mug with built-in heating technology that keeps your drink at the perfect temperature for as long as you like.
Order online 
Look under 'Friends and Family Sale Available to Public'.
Questions? Call 937-886-9177  or email Sales@incentaRewards.com.
Invest in employees now, avoid bigger costs later
The truth is training a new employee to the point where they're as comfortable as a tenured employee is a costly investment both in time and money. According to some reports, on-boarding a new employee could cost as much as $4,100 and 42 days in lost productivity. Those numbers alone should convince business leaders to put a focus on employee recognition all year.
Our best advice? Develop a plan for showing employee appreciation year-round, contact Incenta Rewards to help build or supplement that plan, and at the very least, mark your calendar for March 5, Employee Appreciation Day.