5G is coming. How will it affect payment processing?
Submitted by: Infintech, Chamber Endorsed Payment Processing Vendor
In today's 4G world, many everyday tasks, like turning on lights or starting the ignition, are now done remotely because homes and cars are connected. Fingerprints and faces are replacing passwords. And all of that is done with just a small percentage of the connectivity available.
Imagine the possibilities with the Internet of Things (IoT) gaining momentum, driven by fifth-generation mobile networks (5G). These super-fast, super-efficient, high-capacity networks are poised to improve how people connect with machines and how machines connect with other machines. With this growing connectivity, 5G has the potential to change the world where commerce is conducted across devices — devices that will increasingly do things automatically for consumers.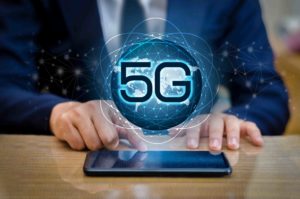 5G Helps Shape Payments
In the short term, Mastercard is already working with public transit companies to enable commuters to use their mobile devices to pay, lowering costs of paper tickets, ticket machine upkeep, and fare collection. With 5G, transit providers can also collect and read critical information in real time to improve service, including increased efficiencies for buses and ridership.
With 5G, merchants and their consumers could have much-improved, personalized, and customized services. 5G will bring a lightning-fast, real-time user experience to mobile devices, so much so, that consumers will experience banking and payment transactions instantly on their devices. Inventory management will happen faster and better because of intelligent reordering in the B2B supply chain. Consumer goods that have an expiration date, undergo wear and tear, or simply run out will reorder themselves.
5G Will Impact Payment Services
To keep up with 5G, payment service providers will need to attain new solutions that will extend to more channels including 5G smartphones, wearables, IoT devices and virtual reality. The increased security and speed made possible by 5G will also revolutionize the capital markets, shortening settlement cycles considerably and removing latencies with real-time mobile trading capabilities.
Learn How Infintech Can Help Prepare Your Business for 5G:
Contact Infintech's Dayton Area Chamber of Commerce representative, Ed Wimpee, at 513-725-3630, or learn more about our partnership here.