6 Ways Retailers Can Prepare for the Holiday Season
Submitted by: Infintech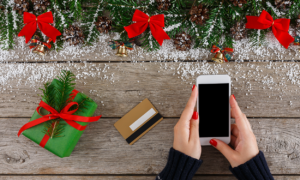 As many retail business owners will tell you, holiday sales can make or break their bottom line. For some retailers, holiday shopping accounts for nearly 20% of annual sales according to the New York Times.
With COVID-19 still looming, the holiday shopping season will look a lot different for business owners, and retailers need to be prepared for the shift in how customers will purchase their goods and services. Here are some quick tips for retailers – whether they conduct business via brick and mortar, eCommerce, or both – to make the most of the holiday shopping season.
1. Keep Your Brand Top of Mind
During the holidays, making your products and brand stand out from competitors is as important as providing quality merchandise. Find ways through social and digital marketing to connect with customers and keep your business top of mind during the holiday season.
2. Provide Touchless Ways to Purchase
Make sure to inform customers of the touchless options they can use to purchase products, like curbside pickup, online ordering, and pre-ordering, which is very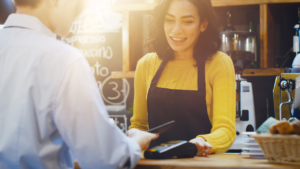 important during this pandemic. Also, consider how the in-store experience can be adjusted to implement social distancing. Place sought-after merchandise in a different, open area of the store that provides easy and quick access. Minimizing shopper frustration by making the experience easy and achievable can result in a boost in sales.
3. Add an Online Shopping Cart to Your Website
More consumers are shopping online for the first time, instead of buying products in-store. Creating an online shopping cart that integrates seamlessly with your website provides customers with a continuous shopping experience. Customers appreciate an eCommerce exchange that allows them to purchase instantly via a few clicks.
4. Provide Multiple Checkout Locations In-Store
The incorporation of mobile and contactless payment solutions improves the opportunity to provide a quick checkout experience for customers. Adding mobile payment processing capabilities to your POS system prepares your retail store for an increase in foot traffic. This also provides the flexibility required to add mobile point-of-sale (mPOS) devices allowing your business to process magstripe, EMV, and NFC payments with a tablet or smartphone.
5. Make Sure Your Physical and Digital Stores Work Together
If you have or are adding an online store, it is imperative that both the brick-and-mortar location and eCommerce store work seamlessly together. Begin offering your top 20% best-selling products on your website to start. This will allow you to work out any bugs with cross-channel marketing between the technology and inventory. Next, you should aim to provide a unified customer experience. Make sure your marketing is aligned so whether they are in-store or shopping online, the customer is being spoken to in one consistent voice.
6. Use Business Reviews to Your Advantage
Use your customer experience feedback to understand how customers feel about their experience when making purchases with your business. Use these findings to improve key areas so your business can run smarter and more profitable.
Learn more about how you can use Infintech for smarter, more cost efficient payment processing exclusive to Dayton Area Chamber of Commerce members.