7 Shopping Habits Changed by COVID-19
People worldwide have been sheltering in place for months while they ride out COVID-19. Daily life as changed drastically in that time with remote working and learning, virtual visits with loved ones, online shopping, and digital fitness apps becoming the normal mode of operation.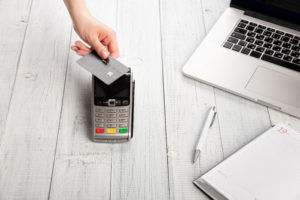 As the nation begins to re-open, it is evident that there will be a new normal when it comes to consumer purchasing habits and merchants need to adapt – quickly. Shoppers will be looking for retailers that make them feel safe.
7 Ways COVID-19 Will Change Purchasing Habits
A new report from Big Red Rooster, a brand experience firm, highlights seven key ways consumers have changed their purchasing habits because of COVID-19.
1. Look Without Touching
The coronavirus pandemic is changing how we think about touching things. As consumers return to brick and mortar stores, many will be wary of picking up merchandise that has come in contact with others, pushing shopping carts, and punching the buttons on credit card readers.
The biggest U.S. mall owner, Simon Property Group, is already encouraging all of its retail tenants to use contactless payment methods, such as digital wallets like Apple Pay instead of handling physical credit cards.
2. Protect Your Personal Space
Consumers are thinking more about protecting their personal bubbles with six feet between themselves and fellow shoppers. When consumers venture out, tight and cramped spaces will be avoided. Open-air shopping centers will be preferred over enclosed shopping malls. Capacity will be limited in stores to make sure they do not become overcrowded.
Electronics retailer, Best Buy, for example, is gradually reopening its stores — but only for in-store consultations by appointment.
3. Shop Local
The pandemic has instilled in many consumers a greater interest in shopping local. People want to support their favorite coffee shops, breweries, and boutique shops so that they do not go out of business. COVID-19 has made many shoppers realize how much they appreciate their local mom-and-pop shops and they will look to continue to support them post-pandemic.
4. Optional Spending Drops
During the worst unemployment crisis in U.S. history, consumers have shifted their focus to meeting their daily needs while cutting back on spending for non-essential items. Consumers will be looking for bargains for quite some time and will think twice before getting a new pair of shoes.
Merchants that sell things like clothes, jewelry, and other accessories will need to adapt or risk their sales slumping. "We've just got to figure out a way to be relevant. … We don't sell things people need, we sell things people want," said Pete Nordstrom, the department store chain's president and chief brand officer.
5. Virtual Purchases Become Mainstream
This pandemic has accelerated the rate of people adopting all things digital and that includes purchasing goods and services online. Merchants will need to get creative as consumers become more comfortable buying things online.
Warby Parker, for example, has a virtual try-on feature for its glasses on its website. Companies will need to offer more experiences like this to continue to stay relevant.
6. Building Brand Loyalty
Consumers are looking to buy from brands that are sensitive to the crisis, as well as individuals' health and safety. These companies make customers feel more confident and better about their decisions in shopping there.
Nike, for example, released an ad that said, "Play inside, play for the world," encouraging people to stay indoors during the pandemic to reduce the spread of COVID-19. Consumers will also look to merchants who focus on cleanliness in stores and how they treat their employees.
7. Consumers Relate to Global Impact
The coronavirus pandemic has also made consumers think globally when they see people in Ohio dealing with the same issues in Sicily. For that reason, consumers will be more conscious of where goods are sourced from and produced in a post-COVID-19 world. Merchants will also need to be more transparent about their global supply chains to build customer loyalty.