B2B Experiencing Digital Payments Transformation
Submitted by: Chamber Partner Infintech
Corporations are venturing into the opportunity to digitize and modernize like never before. COVID-19 has pushed B2B industries into remote working environments and has provided a slowdown that has companies focusing on how to automate workflows and reduce the paper that comes with managing the back office.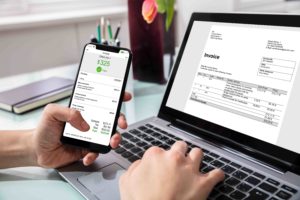 Now that businesses have gotten a taste of what it means to automate processes, it may mean that companies transform the way they conduct business in the future.
Overcoming the Fear of Change
While it is not easy for any organization to take on change, it is particularly tough for businesses that relied for years on paper and manual processes in financial departments. Today those same businesses who were forced into automating processes due to the pandemic are quickly recognizing its benefits.
"Those who have started down this path have realized there were a lot of inefficiencies," as stated in an interview with PYMNTS.com. "They're getting the taste of being able to get cash flow faster and give their supply chains choices in how to pay. I certainly don't think it will go back to the way it was."
The importance of using technology to reduce days sales outstanding (DSO) is critical in these unprecedented times. And companies that concentrate on a cohesive cash flow strategy will come out ahead. This means not only digitizing invoices, but integrating payment capabilities on that electronic document, or within the company website itself. Automation of these systems can lead to interconnected banking, invoicing, accounting, payments, cash management, and other platforms for a  unified view of financials that truly benefits every business.
For the customer, these digital advances translate into a seamless payment experience.
Financial Overview is Beneficial
For B2B companies, having the ability to ensure that all back-end platforms and workflows can connect and communicate with each other tackles a key point of friction for today's financial professionals. Rather than toggling back and forth between banking portals and accounting apps, organizations can obtain insight into every part of the financial health of an organization.
Addressing the friction of payment acceptance is essential to digitizing finances, shortening DSO, and migrating online is just one piece of the puzzle. According to Keith Smith, CEO of Payouts Network, there is a bigger picture that organizations must examine as part of their transformations. "How do I manage capital overall?" he said. "Dynamic capital management is the opportunity, and when it comes to B2B, that is really untapped."
A Competitive Differentiator
Businesses' digitization initiatives in areas like accounts receivable, accounts payable, and accounting are sure to support the broader migration of the B2B ecosystem towards an eCommerce model. But as this shift occurs, organizations must keep in mind the broader impact on cash management. Businesses are now viewing functionality like eInvoicing and online payment acceptance as competitive differentiation. It gives a different level of service to customers, especially in the B2B space, and as more businesses see their own vendors offering these capabilities, they'll want to follow suit.
To learn more about the options for modernizing payment processing in your business, contact chamber partner Infintech. Dayton Area Chamber of Commerce members are eligible for a free quote.