For Employers: Miami Valley Child Care Resource Guide
You hear it every day. Many job applicants can't take jobs because they can't afford child care. Full-time child care can cost over $200/week, so working doesn't pay for many part-time and low-wage workers. This issue is one of the factors causing a labor shortage in the Miami Valley.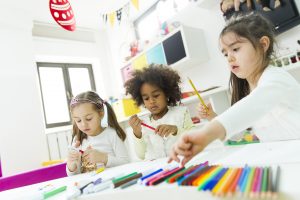 So what can employers do? Thankfully, our region has many resources available to parents and caretakers. Below is a list of child care solutions for you and your employees.
937-220-9660 Ext. 1330
4C for Children is an organization which helps Miami Valley families find quality and affordable child care. It's also a resource for child care subsidies for low-income families.
Visit 4cforchildren.org
937-329-2700 – Call or Text
Preschool Promise works with 100 different preschools in the area to help Montgomery County families with a 4-year-old find and afford quality Preschool. Preschool Promise has partners in Dayton, Jefferson Twp., Kettering, Mad River, Northridge, Trotwood-Madison, and West Carrollton. Tuition assistance may be available.
Visit PreschoolPromise.org
937-2EN-ROLL
MVCDC helps families experiencing poverty get free child care. To be eligible, families must earn 100% of the Federal Poverty Level or less. Once a family qualifies, they do not necessarily lose benefits as their income increases.
Visit mvcdc.org
MCDJF administers Ohio's Publicly Funded Child Care assistance. Families earning under 130% of the Federal Poverty Level can receive financial help to afford child care for children under 18.