GEN D FEATURED PROFESSIONAL: JOE BARTON, FARUKI PLL
Name: Joe Barton
Title: Associate Attorney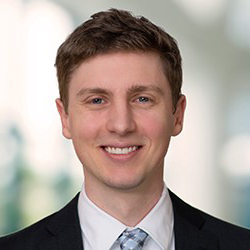 Organization: Faruki PLL
Community Involvement (groups, clubs, boards, volunteer activities, etc.):
Aside from Generation Dayton, I'm a member of the Joint Development Team for local legal aid organizations ABLE, GDVLP, and LAWO and a member of the Dayton Bar Association Young Lawyer's Division.
 Hobbies and interests:
When I find that I have a good chunk of free time my preference is always to find a way to spend it with family or friends.  I also love discovering new music and playing (not particularly well) my guitar.  My wife and I are avid concertgoers and are always on the lookout for a good show.
Favorite Area Eatery:
Wheat Penny Oven & Bar
Favorite Weekend Activity in Dayton:
Exploring restaurants or neighborhoods I've never been to before.
What do you love about Dayton?
Growing up in Kettering, I never expected to live in Dayton as an adult. Now, I'm excited and proud to live here. Dayton is big enough and diverse enough to always find something interesting to do but small enough to maintain a real sense of community. I love that there are opportunities here for young people to get substantively involved in service in ways that would never happen in larger cities.
How has Generation Dayton aided your professional, personal and/or social development?
Generation Dayton has been the most fun and efficient way for me to connect to peers outside of my own industry. I appreciate that every time I go to a Generation Dayton event I meet at least one person who is passionate about developing their skills and contributing to the community.
Tell us a little more about your profession and company:
As an Associate Attorney at Faruki, I help local, national, and international businesses resolve just about every kind of problem you can think of, from international manufacturing disputes to healthcare fraud to commercial lease negotiations.  Faruki is a boutique law firm, staffed by experienced trial attorneys with deep Dayton roots, which represents large and small companies across a number of practice areas including business litigation, corporate counseling, intellectual property, employment law, and class actions.
Favorite quote or inspirational saying:
"We do not think ourselves into new ways of living, we live ourselves into new ways of thinking." – I've seen this quote, or quotes like it, attributed to all sorts of different people but I first found it because of Richard Rohr.