GEN D FEATURED PROFESSIONAL: LOGAN DAWES, KEY PRIVATE BANK
Each month, we feature a young professional from Generation Dayton. These up-and-comers are already making a mark on the Gem City, so we're sure this isn't the last you'll be seeing of them.
Name: Logan Dawes
 Title: Associate Relationship Manager
Organization: Key Private Bank
Community Involvement (groups, clubs, boards, volunteer activities, etc.): Key4Women – Treasurer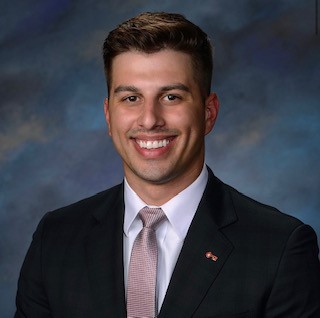 Hobbies and interests: Golf, Chess, Music, Cooking
Favorite Area Eatery: The Troll Pub or Carver's
Favorite Weekend Activity in Dayton: Golfing at NCR or watching Michigan Football, Go Blue!
What do you love about Dayton?
 The entrepreneurial spirit & hearing stories of how business owners got started.
How has Generation Dayton aided your professional, personal and/or social development? 
Generation Dayton has given me a place to network with other like-minded professionals who's interests align with mine – the ability to give back and help others in their own professional development.
Tell us a little more about your profession and company… 
Key Private Bank is a leading provider of comprehensive wealth management solutions and advice for high-net worth and ultra-high-net worth clients, including wealth advisory, investment management, trust administration, customized credit, family office and private banking services.
As a Relationship Manager for Key Private Bank, I deliver integrated wealth strategies and forward-thinking, objective advice to our clients. Many individuals, families, professionals, retirees, business owners, and executives rely on our wealth management insights. After I help clients define their goals and priorities, I consult with my local team of experts in the areas of investment management, trust and estate planning, credit, and risk management to recommend solutions that address your unique situation.
Favorite quote or inspirational saying: 
"Someone is sitting in the shade today because someone planted a tree a long time ago" – Warren Buffett