GEN D FEATURED PROFESSIONAL: TAYLOR NARAGON, MIAMI VALLEY MEALS
Name: Taylor Naragon
Title: Marketing & Development Administrator
Organization:  Miami Valley Meals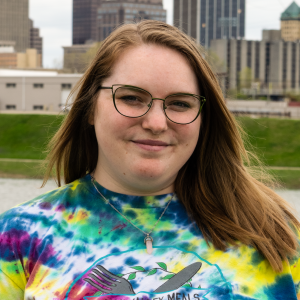 Community Involvement (groups, clubs, boards, volunteer activities, etc.):
Just working at MVM!
Hobbies and interests:
I got my degree in Studio Art and love to create art in my spare time. I'm especially interested in embroidery, painting, photography, and DIY projects. I also love to cook.
Favorite Area Eatery:
There are so many to choose from! My favorites are probably Warehouse 4, Old Scratch, Sky Asian Cuisine, Sueno, and Seajax Tavern.
Favorite Weekend Activity in Dayton:
Cooking for friends and family.
What do you love about Dayton?
I love that Dayton is big enough to have plenty to do and see, but small enough that everyone knows everyone and there's plenty of room to grow.
How has Generation Dayton aided your professional, personal and/or social development?
Generation Dayton gave me a fun, no pressure environment to connect and learn
more about our city and the amazing people who make things happen.!
Tell us a little more about your profession and company…
Miami Valley Meals is a chef-led nonprofit that transforms recovered food into delicious meals for other nonprofit organizations serving the hungry. My role at MVM is to help share our story with the community, whether that be through our website, social media channels, grant-writing, volunteer engagement, events, etc.