GenD Featured Professional: Shelli DiFranco, Five Rivers MetroParks
Each month, we feature a young professional from Generation Dayton. These up-and-comers are already making a mark on the Gem City, so we're sure this isn't the last you'll be seeing of them.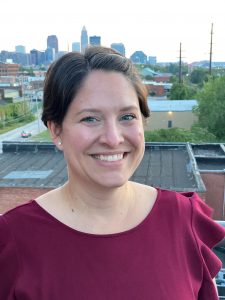 Name: Shelli DiFranco
Title: Director of marketing and public engagement
Organization: Five Rivers MetroParks (metroparks.org)
Community Involvement (groups, clubs, boards, volunteer activities, etc.): Sadly, none other than Generation Dayton. We settled in about three months before the pandemic hit and I haven't gotten the opportunity to do much more. Thanks to Gen D, I recently did a volunteer shift at The Foodbank and am hoping to make that part of my routine.
Hobbies and interests: Our family got a plot at the South Park Urban Garden and it's been a fun activity in which our whole family can participate. Our 3-year old is a big fan of picking the sugar snap peas.
Favorite Area Eatery: Does Gem City Market count?! I hope so – I love having a grocery option that's close to my home and work. And the in-house Third Perk location is an added bonus.
Favorite Weekend Activity in Dayton: We are big fans of the 2nd Street Market and the playground at Island MetroPark. As a parent, I love that the playground area is fenced in and shaded. We can also walk to the Oregon District and have enjoyed doing date nights there.
What do you love about Dayton? I am a boomerang – I grew up in the area but left in 2003 for college and returned after a 17-year lapse. My family chose to live in a downtown neighborhood and it has been wonderful seeing how the city has evolved over the past two decades. I'm looking forward to doing more this summer.
How has Generation Dayton aided your professional, personal and/or social development? Generation Dayton has helped me meet others in the community and is helping me become reacquainted to the city. I've really enjoyed the virtual meetings and speakers and am excited to do more in person this year.
Tell us a little more about your profession and company… I've spent most of my career focused on environmental communications, it's a perfect blend of my passion and education. I get to tell stories and help people enjoy nature, it's incredible! Five Rivers MetroParks covers Montgomery County and protects more than 16,000 acres of land, 90% of which is in its natural state. MetroParks locations' are home to 160 miles of natural surface trails and the greater Dayton region is home to more than 340 miles of paved trails – the nation's largest paved trail network – and 270 miles of river corridor.
Favorite quote or inspirational saying: The last few years have been bumpy for me, so my mantra has been "the only way out is through". This helps me focus on taking things one step at a time.