Kershner: Dayton International Airport is a Critical Asset
VIEW ARTICLE AS FEATURED IN DAYTON DAILY NEWS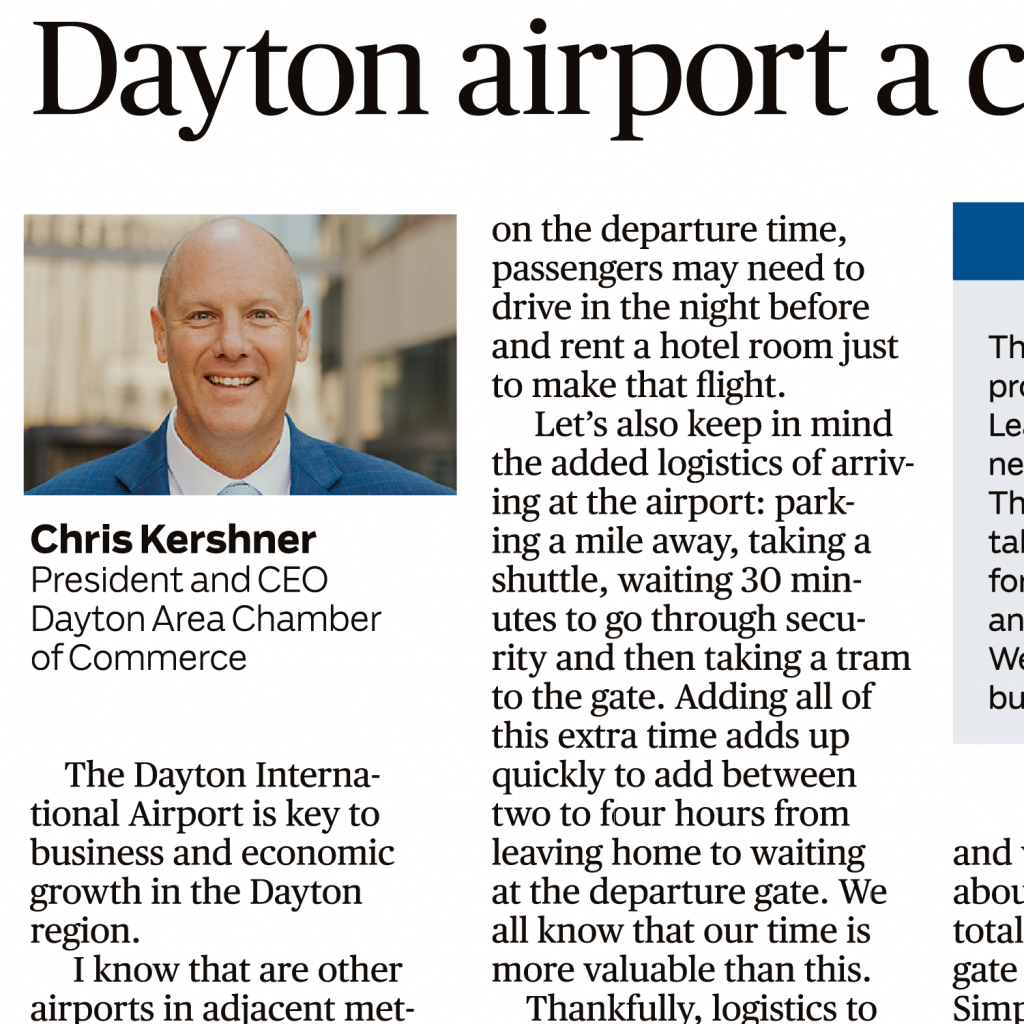 The Dayton International Airport is key to business and economic growth in the Dayton region. I know that are other airports in adjacent metropolitan areas that offer cheaper flights or non-stop service to your destination. This is a moot point when you factor in the travel time to one of these airports being one or more hours from your home. Additionally, depending on the departure time, passengers may need to drive in the night before and rent a hotel room just to make that flight. Let's also keep in mind the added logistics of arriving at the airport: parking a mile away, taking a shuttle, waiting 30 minutes to go through security and then taking a tram to the gate.

Adding all of this extra time adds up quickly to add between two to four hours from leaving home to waiting at the departure gate. We all know that our time is more valuable than this.

Thankfully, logistics to Dayton International Airport is a different story. As a local regional airport, travel time from home is approximately 20 minutes, travelers park in a garage 100 feet from the main terminal (no shuttle needed), spend four minutes in TSA and walk to the gate in about five minutes. This total time from home to gate is a mere 30 minutes. Simply put, "That's Dayton."

As Dayton area businesses grow and expand, and corporate air travel returns to normal, productivity time and air service access to high priority business destinations is essential. This is core as to why the Dayton International Airport is key to our economy and our business community. Time equals money and the more time you don't spend traveling and waiting in lines, equals more time you spend being productive for your company, your family and yourself.

To continue the long-term viability of this economic asset, the business community must continue to invest and support our region's only commercial airport. This business support manifests itself as an aligned and organized business community. Working together with the chamber, the airlines and the airport to recruit, retain and utilize new and existing air service. Our region knows that our secret to success over the years is our unification and willingness to do what is best for the collective business community. As we grow, the Dayton International Airport will become even more attractive to new air service, new direct flights and new destinations. Airlines look at current air service, passenger enplanements and destination demand. These numbers determine if an airline strategically invests more in an airport and increase their air service destinations.

As a business community, our support now will direct the future opportunities and viability of this critical economic development asset.
Chris Kershner, CAE
President & CEO
Dayton Area Chamber of Commerce