Kershner: Innovation hubs in Ohio budget will boost region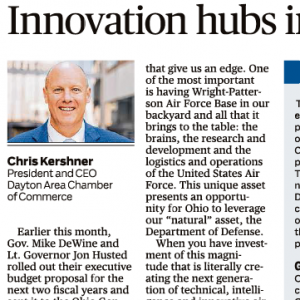 Earlier this month, Governor Mike DeWine and Lt. Governor Jon Husted rolled out their executive budget proposal for the next two fiscal years and sent it to the Ohio General Assembly for consideration. The budget must be passed by June 30, 2023.
In the Governor's budget, there is language that would support the creation of Innovation Hubs to enable communities like Dayton to pursue new innovative, technology-focused initiatives. The Dayton Region was the birthplace of innovation, and through creative economic development programs and public-private partnerships, we will be the future of innovation in the State of Ohio and beyond.
Our region is fortunate to the many advantages that give us an edge. One of the most important is having Wright-Patterson Air Force Base in our backyard and all that it brings to the table: the brains; the research and development; and, logistics and operations of the United States Air Force. This unique asset presents an opportunity for Ohio to leverage our "natural" asset, the Department of Defense.  When you have investment of this magnitude that is literally creating the next generation of technical, intelligence, and innovative air defense, it is Ohio's "natural" asset. To put this in context, the annual economic impact from tourism in Myrtle Beach is approximately $7.8 billion, and $1.38 billion in the Great Smoky Mountains.  At $16.75 billion, the annual economic impact of Wright-Patterson Air Force Base triumphs over the economic impacts of Myrtle Beach and the Smoky Mountains combined. For those that say Ohio doesn't have mountains and oceans, my answer is simple, "we don't need them."
From his time leading economic development at the Dayton Area Chamber of Commerce, Lt. Governor Husted knows these stats well and he is hyper-focused on making sure this region is well-positioned for the innovations of tomorrow. The Dayton Region is already seeing growth from strategic economic development wins like the Honda-LG joint venture in Jeffersonville. With this new influx of support from the Innovation Hubs, the Dayton region will be positioned for the next big opportunity, whether that is a joint venture opportunity, advanced technology investment, or innovation that doesn't even exist today.
Our region will be successful if our government partners, business leaders, and economic development teams continues to be aligned. This has been our recipe for success and now is the time to double down on these collaborations to ensure the Dayton region is ready to lead on the next wave of innovation.
We have the talent, the "natural" asset, and the risk-taking confidence to lead on a global level.  Let's go!
Chris Kershner, CAE
President & CEO
Dayton Area Chamber of Commerce