Leadership Dayton class of 2016 flies high for new Dayton Children's patient tower
DAYTON, Ohio (June 2016) – Leadership Dayton class of 2016 left its mark on the Dayton region with two large icons designed to bring awareness to a major expansion and re-branding effort at Dayton Children's Hospital.
Two 400 pound statues, one depicting a shooting star, the other a hummingbird, will be placed at Austin Landing and The Greene, adding to the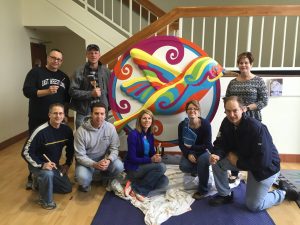 biplane icon that's already on display at Carillon Park. Each icon represents 'things that fly', and will be displayed in community spaces in an effort to raise awareness of Dayton Children's historic fundraising campaign that will transform care for local kids by helping build the new eight-story patient tower in the center of Dayton Children's main campus. The capital campaign will contribute a minimum of $25 million to the $153 million cost of the project.
The two latest icons were adopted as the Leadership Dayton class of 2016 project. Each year, class members of Leadership Dayton, a program of the Dayton Area Chamber of Commerce, choose a project that will leave a lasting impact on the Dayton region.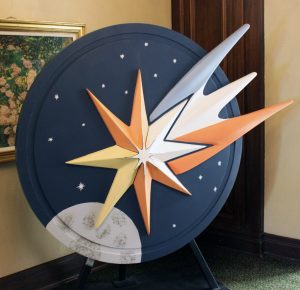 "We believe this project will not only bring awareness to the fantastic work Dayton Children's does each day in our community, but that they'll inspire hope for families who are likely experiencing the toughest moments of their lives," said Megan Cooper, Leadership Dayton 2016 class representative.
The perfect pairing
The partnership between the Leadership Dayton class of 2016 and Dayton Children's began with the class's tour of Children's, their host for healthcare day. Class members were struck by how bright and cheerful the hospital was. While some children (and their families) are going through what will likely be the most difficult time of their lives, Dayton Children's offers a beautiful environment where they provide world-class healthcare through an exceptionally caring staff. Seeing all the stunning, carefully curated art that covers the walls, our first thought was to serve by adding to the collection: could we make something that would brighten a child's day when they saw it?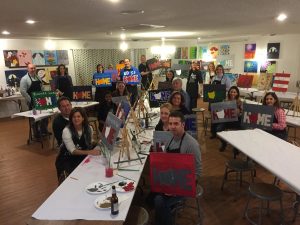 Class members approached the Dayton Children's team with their ideas and open minds, asking 'how can we help'. Turns out – the team at Dayton Children's was ready to launch a project and needed help. Beautiful icons, each themed on 'things that fly,' were to be included in the new patient tower. And, in advance of placement, they would be out in the community to raise awareness about Dayton Children's.
Dividing and conquering, the class split into teams of design, implementation, community outreach, social media, and a steering committee. Some team members stepped up to host special fundraising events – painting parties and drone flying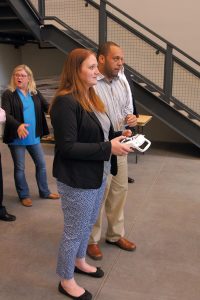 lessons. The entry fees from each event helped support the cause. Designs were drawn and pitched, paints were purchased, and over two weekends, the class tackled the actual painting of the icons (where they split even further into globbing paint on, skilled detail work, and clean-up crew).
The community team started spreading the word about the opportunity to host an icon in advance of the new patient tower opening, and our social media team captured all the action in photos and online.
Caring for our children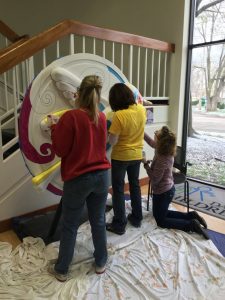 While the artistic element is a fun, childlike reminder of the importance of having such a quality healthcare center dedicated to healing our region's children – this project is equally about letting the wider community know about the important role Dayton Children's plays in our region's healthcare scene. Its Center for Child Health and Wellness is leading special projects to make our children healthier overall. The center has launched major initiatives tackling problems with asthma, obesity, and safety. Our region deserves quality healthcare for our youngest residents, and Dayton Children's is not only there in times of trouble, but it's there to ensure our kids have more healthy and happy times as well.
The Leadership Dayton Class of 2016 was excited to learn about Dayton Children's this year, and hopes this project does just a little bit to spread the word further in the community.