Leadership Dayton class of 2017 throws a party in the name of outreach
DAYTON, Ohio (June 2017) – For its class project, Leadership Dayton class of 2017 focused on two basic obstacles to achievement that many Dayton families face in literacy and nutrition. Class members worked directly with families in Dayton's Residence Park, Westwood and other neighborhoods to develop reading skills and healthy eating habits.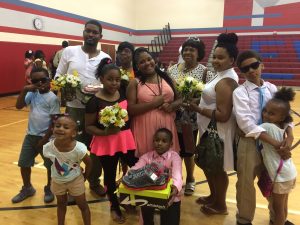 Leadership Dayton Class of 2017 started out its year with Dayton History Day. The day was filled with learning about the different pockets of the Dayton Community. There was a focus on Dayton's west side and learning about different struggles with obtaining the right nutrition. What class members learned about during this day left such a lasting impression on them that the class decided to focus on helping Dayton area families improve literacy and their nutritional knowledge. The class chose to focus its efforts on the West Wood neighborhood.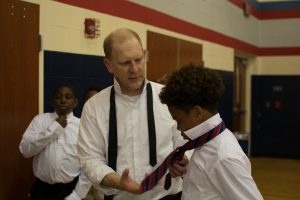 To reach families, the class put together an event for 6th graders at Edison Elementary School, utilizing community resources to host an award ceremony, dinner and dance for the students and their families.
The class covered all the details to make the event a success. Each of the students was given new dress clothes and shoes to wear to the dance. Once they arrived, the Leadership Dayton class provided a nutritious meal and two books for each student, including a cookbook aimed at nutrition education.
Leadership Dayton class of 2017 invited the Westwood Branch Library to the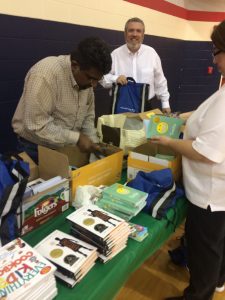 event to invite the students and their families to the Teen Summer Reading Program. House of Bread, a local soup kitchen, was also engaged to help prepare and serve the meal.
The children and families had a blast dancing to songs by the DJ and making the memory last for a lifetime by taking photos in the photo booth.
To end the night, the 6th graders left with swag bags full of goodies; everything from piggy banks to start their savings to toothbrushes and toothpaste. Shoes 4 the Shoeless also donated brand new shoes to all the kids.
A few quotes from classmates:
"My favorite part of Leadership Dayton as a whole was the camaraderie within our group that developed over the past year. Our Edison School project was a success in large part because we had such an engaged team."
"The phrase, 'It takes a village' is certainly true of pulling off a successful, well-received event; it's not one person or a small group, it's every one of us coming together for the common good."