Leadership Dayton Class of '23 Creates Fundraiser for East Palestine Police Dept.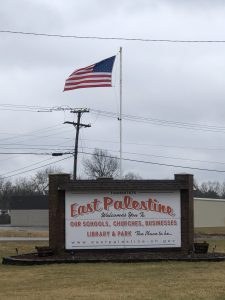 The Dayton Area Chamber of Commerce's legacy professional development program, Leadership Dayton (LD), is designed to develop local leaders to better serve the Dayton region. Each year welcomes a new cohort of area professionals eager to learn and better support their communities. This year, one LD class took that a step further by serving another community in desperate need.
On February 3, 2023, a train carrying toxic chemicals derailed in East Palestine, Ohio. This resulted in evacuations and uncertainty, both environmental and economical.
Montgomery County Alcohol, Drug Addiction & Mental Health Services (ADAMHS) sent a team of mental health professionals, including Tina Rezash Rogal, their Director of Strategic Initiatives and Communication, to aid East Palestine residents during the onslaught of the crisis. Upon arrival Rezash Rogal saw an opportunity to provide additional support to the local law enforcement responding to the crisis.
This insight came from Rezash Rogal's experience as a member of the Leadership Dayton Class of 2023 where she connected with fellow LD classmate, Eric Henderson, Deputy Director & Assistant Chief of Police for the Dayton Police Department. While going through the LD program, Henderson was able to share the challenges police departments face during high-stress crises, like in East Palestine.
Rezash Rogal returned to Dayton and communicated her direct experience of volunteering in New Palestine with fellow LD class members. The cohort saw a strategic way to extend their servant-leadership knowledge to Eastern Ohio by fundraising to support the East Palestine Police Department. The class raised $1,500 which went to the East Palestine Police Officer's Association. Officers can make requests to use the funds for services that aren't covered by the city budget.
East Palestine Police Chief, James Brown, was overcome with emotion when he learned about the Leadership Dayton class fundraiser.
"People don't realize that police departments are often forgotten in times like this. Our officers are working 14-16 hour days. This is the most significant show of support we have seen and this phone call means everything," said Chief Brown when he was told about this initiative by LD class of '23.
The Dayton Area Chamber of Commerce is applauds Tina Rezash Rogal and the entire Leadership Dayton Class of 2023 for their swift support to the uplift the East Palestine community and share the Dayton region's spirit of collaboration throughout the state.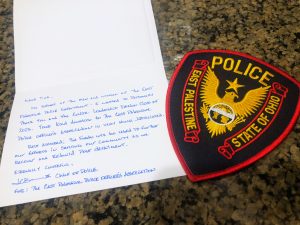 East Palestine is still in need of assistance, to join the fundraising effort, please email Tina Rezash Rogal at Tina.Rezash@gmail.com
Are you looking to elevate the leaders in your business to best support the Dayton area? Learn more about applying to Leadership Dayton  HERE.