Logistics Data
The Dayton region is perfectly positioned for success. It offers the unique combination of an ideal location for building optimal distribution networks, lower-than average operating costs, available industrial real estate and an affordable workforce ready to meet any demand.
Location of Ports
Dayton's proximity to multiple inter-modal hubs offers access to ports nationwide. The ports of New York, New Jersey and Virginia are accessible via Columbus, an 80-mile drive. Cincinnati's air terminal, a 50-mile drive, favors inter-modal moves across the Southeast ports of Savannah, Jacksonville and Miami. Dayton is within 300 miles of Chicago, which offers exceptional access to west coast ports.
Megaregion
Economic activity is increasingly concentrated in linked groups of metropolitan areas known as megaregions. Dayton is located in the heart of the Midwest Megaregion, with easy access to its largest cities via Interstate highway. Indianapolis, Columbus and Cincinnati are all in close proximity to Dayton.
Trade Corridors
Dayton straddles two major trade corridors, the Atlantic Corridor and the Central Eastern Corridor. Dayton's unique position enables it to serve both corridors and allows goods to move between the two.
Median Center of Population
Dayton is located near the Median Center of Population. An indicator of a Good DC location. Reasonably positioned for the population migration, labor force growth and megaregion trends.
The Dayton Region has the potential to support a massive distribution workforce. The city has a long history of blue-collar and industrial work, and above-average concentration of households with demographic characteristics associated with an ideal labor pool for logistics operations. The people of Dayton are proud, hard working and ready to drive the future of distribution in America.
Logistics & Transportation Studies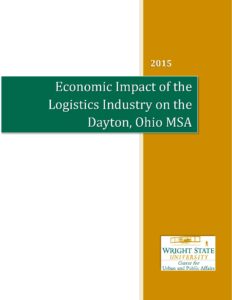 Economic Impact: In 2015, the Dayton Area Chamber partnered with the Center for Urban & Public Affairs (CUPA) at Wright State University to analyze the economic impact analysis of the logistics and transportation industry in the Dayton, OH Metropolitan Statistical Area (MSA) regional economy. The study found that the logistics and transportation industry's full economic impact on the Dayton region surpassed $2.5 million dollars. Download the CUPA Economic Impact Study here.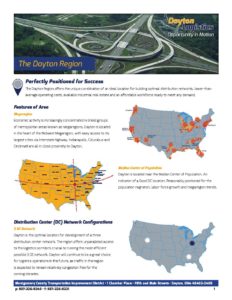 Dayton's Regional Assets: In an independent study, internationally renowned consulting firm to the supply chain management industry, St. Onge, ranks the Dayton Region as one of the nation's most ideal locations for a distribution hub in any network configuration. It is not an overstatement to say that Dayton, Ohio is the perfect location for new logistics initiatives. Dayton is optimal (within the margin of error) for any distribution network configuration. In the site selection process, the Dayton Region's location, workforce and real estate make it an ideal location for establishing a distribution hub or expanding an existing distribution network. Download the St. Onge study here.