Restaurant loyalty programs increase customer spending
According to new data, loyalty programs are one of the key factors that is influencing increased spending by restaurant customers. Throughout the pandemic, owners have sought out ways to secure more business through consumers' digital spending habits. Restaurants with established loyalty programs have experienced game-changing profitability by getting good customers to visit more often and spend more than they typically do.
This new study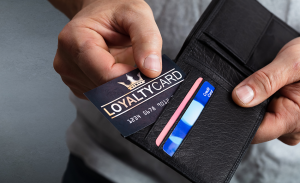 finds that about 4 out of 10 diners would be inclined to spend more at a restaurant if it offered a loyalty and rewards program, and that figure goes up to 45 percent of diners for independent table-service restaurants. In an interview with PYMNTS.com, El Pollo Loco Vice President of Digital, Andrew Rebhun, said, "We put a much greater focus on segmentation and artificial intelligence. We're really doing a much better job of understanding who our [customers] are and making sure we're sending them offers and products that are most relevant to them."
How Merchants Can Leverage Loyalty Programs
Today, the economy-concerned customer is the most likely to be using loyalty programs for at least one restaurant, with half of these consumers already engaging with restaurant rewards. They are followed by the social-concerned customer and the unconcerned customer. Health-concerned customers, who make up 39 percent of all restaurant customers, are the least likely to be using loyalty programs. This indicates that, to capture the spend of these programs' most frequent users, the bigger the discount, the more consumers will engage.
One way that restaurants are making this work economically is by offering tiered rewards, with bigger discounts for more frequent customers. Fast-casual chain, Qdoba, for instance, offers more points the more you visit, with those who have visited 25 or more times earning twice as many points as new customers and receiving a "Monthly Mystery Perk."
To appeal to those that are holding out, merchants emphasizing a loyalty app's contact-free digital ordering and payment options could go a long way. "Guest expectations have changed forever. Exceeding them requires not only improving the loyalty offering but using program data to improve the guest experience," said Michelle Tempesta, head of product and marketing for Paytronix. "Brands like Panera Bread and Jimmy John's positioned themselves well by being early adopters of Apple Pay and Google Pay. They enabled diners to not only pay but to pass their loyalty identifier via a contactless tap at the point of sale. Guests feel safe, and the brands deliver an exceptional experience."
Social-concerned and unconcerned customers are more likely to be using loyalty programs at quick-service restaurants (QSRs), as are health-concerned customers, while economy-concerned customers are more likely to be using them for table-service restaurants.
Many QSRs are targeting their social-concerned rewards users with deals and discounts tied to special events, catering to customers who want to gather. Take, for instance, all the birthday freebies being offered ­­— Pizza Hut's free birthday cinnamon sticks, Krispy Kreme's free donuts, and Checkers' free milkshakes. With each person's distinct wants and worries in mind, restaurants can deliver personalized rewards app experiences that will win consumer loyalty for years to come.
Implementing a Loyalty Program
Chamber parter Infintech offers loyalty program solutions, and exclusive pricing to members of the Dayton Area Chamber of Commerce. Getting a quote is free and there's no obligation. Learn more about Infintech here.