Sentinel named 2022 Soin Award for Innovation winner
DAYTON, Ohio – This morning, the Dayton Area Chamber of Commerce and Soin LLC announced that Sentinel Occupational Safety (Sentinel), a startup business based in Fairborn, has won the 2022 Soin Award for Innovation for its product called SafeGuard.
"We're proud to partner with the Soin family once again to recognize Dayton's innovative business community," said Chris Kershner, president & CEO, Dayton Area Chamber of Commerce. "Sentinel's technology has many applications across several markets, and we believe the further development of SafeGuard will lead to opportunity and growth in the Dayton region. Sentinel is a perfect example of how new ideas and business acumen can lead to industry breakthroughs."
SafeGuard: The technology
Sentinel was spun off from Aptima, a Massachusetts company with a large Dayton presence, in March 2020. The startup was formed around its SafeGuard technology, which uses a combination of wearable sensors, analytics, and intuitive software to monitor the well-being of at-risk individuals.
"Sentinel actually started as a collaboration between Aptima, the Air Force Research Laboratory, the Air Force Sustainment Center, and Lockheed Martin," said Zachary Kiehl, CEO & Co-Founder, Sentinel. "There was this idea that we could we use health and safety monitoring technologies to provide continuous oversight of individuals in risk-laden environments – specifically confined spaces."
The technology behind SafeGuard was the result of that inquiry, and as the product grew within the DoD, Kiehl said he saw an opportunity.
"Knowing that Aptima leadership was very approachable and dedicated to innovation and commercialization, I said, 'hey, I think this technology has a lot of potential in the commercial market, and I believe we'd be better positioned to unlock this potential if we spun it off as its own commercial venture. Fortunately, there was immediate alignment.'" Kiehl said.
Applications and business growth opportunities
Since those early days, Sentinel's team has identified three promising applications for the technology. SafeGuard is primarily marketed as a tool for worker safety, capable of simultaneous optimization of both personnel health and safety and current oversight protocols, which include one worker watching another work to keep an eye on their well-being. This approach is not only inefficient, said Kiehl, but largely ineffective.
"There are a lot of hazards that the human eyes, ears, and nose cannot readily sense," said Kiehl.
Sentinel has also identified uses in the healthcare and physical performance industries.
"Think of SafeGuard as an ecosystem that allows for continuous monitoring and prediction of human-centered risks in dynamic environments and states," said Kiehl.
Those individuals could be a construction worker, a grandparent living alone, or a lone runner training on a desolate trail. SafeGuard gathers biometric and environmental information, then reads that data to determine whether the subject is at risk, and reports the subject's condition in real time.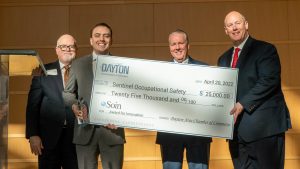 Winning the Soin Award for Innovation
Sentinel's success has been expedited by its access and proximity to technology talent, military expertise and insights, and access to advanced higher education partnerships. This is all made possible by Dayton's rich business ecosystem.
"The innovative spirit of Dayton is renowned both domestically and internationally, going back to the days of the Wright Brothers, Patterson and Kettering; some of the names we're all familiar with. Dayton is a hotbed for innovation and talent, and that allows us to plant our roots here and attract the type of talent we need to have success," Kiehl said. "Between our relationships with WPAFB, academia, local industry, and organizations such as the Dayton Area Chamber of Commerce, the Dayton Development Coalition, and JobsOhio, there are numerous technology-progressive organizations that are dedicated to helping local companies like Sentinel grow. We truly care about the Dayton region and are honored and humbled to carry Dayton's innovative mantel forward."
The Soin Award for Innovation recipient is chosen each year by a panel of judges, made up of area business leaders and representatives from small business supporters. The judges pour through business plans, financial information and other submissions before choosing a top three, which then present their ideas to the panel.
Sentinel's win earns a $25,000 prize and various marketing opportunities thanks to support from Soin LLC, Cox Media Group Ohio, the Dayton Daily News, and Sedgwick.
"It means a lot for us to win the Soin Award for Innovation, and I say that from the bottom of my heart. The name Soin certainly sticks out as a family that is committed to the Dayton region. The fact that we're able to bear the Soin name as we go throughout the community telling our story truly means the world to Sentinel. We're confident we'll take that name to great heights," Kiehl said.
The Soin Award for Innovation began on the Dayton Area Chamber of Commerce's 100th anniversary as a way to honor the businesses carrying on the innovative heritage of the Dayton region. The Raj Soin family has generously been the benefactor of the award since its inception.
Learn more about Sentinel Occupational Safety and SafeGuard at www.sentinelofsafety.com.
Watch the 2022 Soin Award for Innovation winner video here.
About Dayton Area Chamber of Commerce:
The Dayton Area Chamber of Commerce brings together more than 2,200 businesses and organizations in a 9 county area surrounding Dayton, Ohio. The Chamber strives to improve the region's business climate and overall standard of living through public policy advocacy, economic development initiatives and providing networking and training opportunities for its members. Information about the Dayton Area Chamber of Commerce is available at www.daytonchamber.org or 937-226-1444.
###