Golfers beat extraordinary odds
DAYTON, Ohio – The 25th Annual Chamber Challenge golf outing on September 18, 2017 wrapped up with not one, but two jaw-dropping feats. Two golfers hit holes in one within 15 minutes of each other, marking the first time that's ever happened at a Chamber Challenge outing.
The Chamber Challenge golf outing, hosted by the Dayton Area Chamber of Commerce, occurs each year at the NCR Country Club in Kettering. This year, 200 golfers and 30 volunteers participated in the half day competition, ending the evening with the presentation of golfer awards.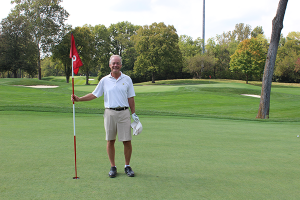 At approximately 3:15pm, Fred Ungerman (photo on left), Partner-in-Charge at the Dayton office of Taft, Stettinius and Hollister LLP, hit the first ace on hole eight of the South NCR course, a par-three. Ungerman brought home a Rolex watch from James Free Jewelers, valued at $30,000.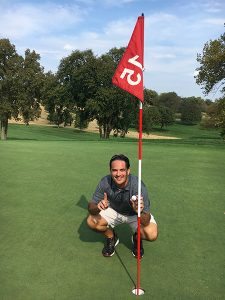 Less than 15 minutes later, just before 3:30pm, Michael Balsom (photo on left) of The Davis, McGlone, Johnson, Balsom Group at Merrill Lynch, hit a hole in one on the par-three 15th hole of the South NCR course. Balsom won a two-year lease on a Ford Fusion, courtesy of Beau Townsend Ford Lincoln.
According to Golf Digest and the National Hole In One Association, the odds of an amateur golfer making a hole in one on a par three is 12,500 to one. In the Chamber Challenge's 25 year history, only two lucky golfers have hit a hole in one until now.
The incredible shots were not enough to earn the Chamber Challenge trophy, however. The winning foursome ended the day at 18 under par.
Next year's Chamber Challenge golf outing is scheduled for September 17, 2018 at NCR Country Club.
About Dayton Area Chamber of Commerce
The Dayton Area Chamber of Commerce brings together more than 2,400 businesses and organizations in a 9 county area surrounding Dayton, Ohio. The chamber strives to improve the region's business climate and overall standard of living through public policy advocacy, economic development initiatives and providing networking and training opportunities for its members. Nationally awarded with '5-Star Accreditation' from the United States Chamber of Commerce, the Dayton Area Chamber is widely recognized for its innovative programs and outstanding contribution to positive change in the region. Information about the Dayton Area Chamber of Commerce is available at DaytonChamber.org or 937-226-1444.
-END-