Chamber-backed Coronavirus immunity legislation signed into law
By: Holly Allen & Stephanie Keinath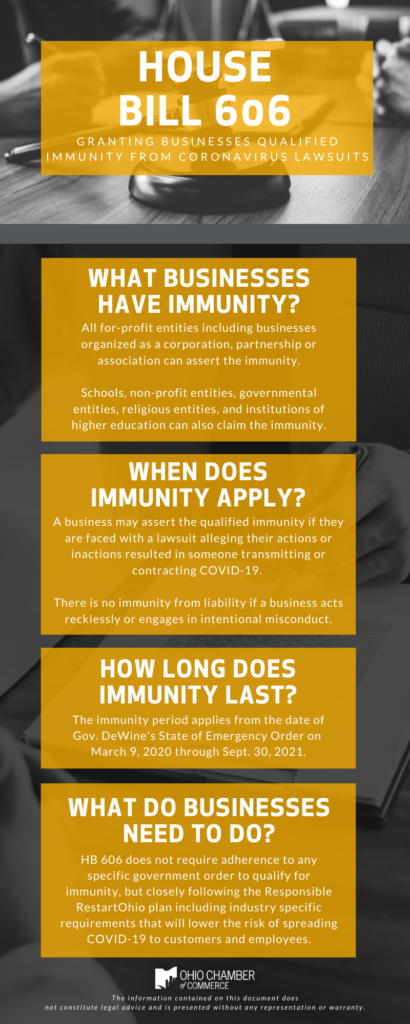 COLUMBUS, Ohio (September 14, 2020) – Governor Mike DeWine has signed into law legislation that will grant Ohio employers some immunity to lawsuits stemming from COVID-19 exposure.
The Dayton Area Chamber of Commerce and other employer advocates supported the bill, after hearing concerns from member businesses regarding liabilities they might face during a pandemic.
House Bill 606 grants Ohio employers qualified immunity from lawsuits that might claim their actions or inaction resulted in someone's exposure to COVID-19. For-profit, non-profit, government entities and more can claim immunity under this legislation. (See graphic provided by the Ohio Chamber of Commerce to the right for details.) Employer immunity will date back to when the governor's state of emergency order took effect, March 9, 2020, and will end on September 30, 2021.
The Dayton Chamber applauds Governor DeWine and the Ohio Legislature on the passage of House Bill 606. This legislation was a top priority to help our members weather the storm raged by COVID-19. Businesses are eager to regain a sense of normalcy. Jobs must be restored; businesses must safely reopen to workers and the public; the economy must gain momentum. In order to do so, responsible businesses need assurance that they will not be at further financial risk by the threat of unwarranted litigation. This bill provides that assurance.
Our chamber will continue to actively educate and encourage businesses to follow state and federal safety guidelines, as well as promote best practices. The business community remains committed to contributing to a safe and effective recovery from this pandemic and H.B. 606 an integral step towards achieving that goal.