Chamber testifies in support of military tuition bill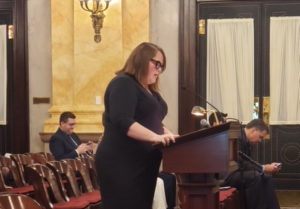 COLUMBUS, Ohio (September 25, 2019) – A bill that would provide easier access to education for our military families is making progress in the Ohio Senate. This week, the chamber's director of public policy & economic development, Stephanie Keinath, provided testimony in favor of the legislation at the State House in Columbus.
Known as HB 16, the bill would allow active-duty military, their spouses, and dependents, to assume residency status on their first day living in the state of Ohio. This change will allow active-duty military families to receive in-state tuition at Ohio colleges and universities immediately upon arrival.
The chamber believes this legislation will create a more welcoming environment for military families when they arrive in Ohio, and will encourage educational attainment and professional development for their families.
This bill's primary sponsor is Rep. Rick Perales (R-Beavercreek). Stay updated on its progress.