5 ways to tap into the power of your chamber of commerce
DAYTON, Ohio (June 2017) – The business world is more competitive than ever, and the demands on a business leader continue to expand. No longer are you only expected to manage employees and grow the bottom line. Today's successful business leaders reach beyond their own doors, harnessing the power of their peers and their local community.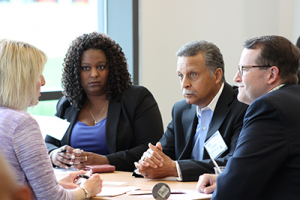 This change in business dynamics has drawn people to what was once an old-school tool, making it new again. For many, the answer to sparking business growth lies with chambers of commerce. In the Dayton region, the largest chamber is the Dayton Area Chamber of Commerce, which serves nearly 2,400 businesses throughout the nine county area.
What can joining a chamber like the Dayton Area Chamber of Commerce do for you?
Networking – Choosing a chamber with a large pool of businesses gives you access to potential customers, vendors, partners, even future employees! The key with networking is making the effort. If you're not the type who enjoys meeting new people, consider choosing a senior leader within your business to take on the role. If you're not connecting with others in your local business world, you're leaving money and opportunity on the table.
Exposure – The value of shaking hands and eating breakfast next to a new chamber friend goes far beyond the here and now. Connections spread like wildfire, and can pay off months down the road. Even if your new chamber friend doesn't need your services now, they might run into someone down the road who mentions a need for what you have to offer, and whose name do you think will enter the conversation? Being top of mind is invaluable.
Credibility – Membership with a chamber of commerce is an investment; an investment in your business and an investment in the community. When customers know you're a member of a chamber of commerce, they know you care. That small piece of mind can create loyal customers.
Best practice sharing – Chambers of commerce regularly host speakers on relevant business topics. These speakers often bring best practice ideas to the table; tangible lessons you can bring back to your workplace and implement. There's also a chance to bounce ideas off your peers. In fact, some chambers, like the Dayton Area Chamber of Commerce, put together groups of non-competing business leaders who meet regularly and act as an informal board, with which you can discuss any confidential business issue you might face. Sometimes talking to the family dog about your latest troubles at the office just isn't enough!
Access to advocates – Business leaders regularly complain about red tape. Why not make sure your voice is heard? The Dayton Area Chamber of Commerce has three lobbyists on staff who are constantly engaged in conversation with elected officials and decision makers on the local, state and federal levels. Chamber members guide their agendas, and staff communicate progress on legislation that's being considered. Now's your chance to make a difference!
So, you're probably wondering how to go about joining a chamber. First, do your research. Make sure you know what chambers are available to you and how their services differ. Next, make your move and fill out an application. We'll see you at the next networking event!